Violet

"Red Wall" Violet

VIZ Media name

N/A

Variant

N/A

Original name

バイオレット[1] Baioretto (Violet)

Rank No.

11 of the Next Generation[2]

Current status

Alive

Ties

Organization, Ghosts

Class

Unknown type: unknown ability

Technique

Unknown

Quote

N/A

First appearance
Etymology
Edit
バイオレット is a transliteration of "Violet," also a flower with many religious connotations in the West.
赤壁 Sekiheki (red wall) is Violet's nickname. Both the name and nickname are revealed while she is defending the Holy City of Rabona, which resembles the Vatican. The nickname may allude to the "Red Wall" that protected the grave of St. Peter in St. Peter's Basilica. Within the context of Claymore, Violet is the "Red Wall" that protects Rabona and the relics of the saints.
Another possible allusion is translating 赤壁 as "red cliff," as in the Battle of Red Cliffs (from the Chinese 赤壁之戰) at the end of the Han Dynasty in the 3rd century.
Appearance
Edit
Hairstyle: mid-back length with a fringe on the forehead. Elfin face with finely-chiseled features. Upslanted eyes similar to Undine's.[3]
Violet wears a lightly built buckle, which holds 2-layer spaulders on the shoulders. Vambraces cover the forearms just below the elbow.[4]
Personality
Edit
Unknown. Always wears an expression shifting between skepticism and deadly seriousness.
Datasheet
Edit
Unknown type. Having no Organization datasheet in the "Yoma War Record," her ability and baselines are unknown.
RebellionEdit
Violet participates in the Claymore Rebellion.[5] She survives the attack of the Abyss Feeders, only to be brought down by the reanimated No. 1 warriors.[6]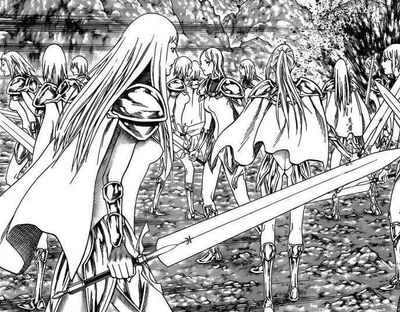 Violet during the attack of the three No. 1s

Later the awakened Hysteria has capture Violet for food. Hysteria keeps Violet and another warrior impaled on spike-like legs.[7] Dietrich cuts Violet free and is caught midair by Helen.[8]
Holy CityEdit
Violet is part of the battle group that joins the Ghosts in the Holy City of Rabona. On the ramparts of the city, Galatea senses Europa's approaching aura, whose magnitude is of a greater order than the two previous Awakeneds that landed in town. Assembled behind Galatea are the warriors.[9]
When Europa crashes the city walls like a wreaking ball, Galatea orders everyone to draw their swords. Among the warriors is Violet.[10]
Additional details
Edit
Rabona is called the "City of the Saints" due to the bodies of saints kept within the cathedral
References
Edit
Tankōbon Claymore volumes cited are VIZ Media (en-us) editions, unless otherwise noted. Manga scenes (chapters) not yet translated cite Shueisha tankōbon (ja) editions. Manga scenes not yet published in tankōbon form cite Jump SQ (ja) editions. Fragments of Silver Omnibus (総集編 銀の断章 Gin no Danshou) 1–3, Shueisha, are only available in Japanese. Anime scenes (episodes) cited are FUNimation (en-us) editions, unless otherwise noted.
Community content is available under
CC-BY-SA
unless otherwise noted.