Shirt and leggings

Shirt and leggings

Variant

Unknown

Original name

Unknown

Description

2-piece suit

Status

Extant

User

Claymore warriors

First appearance
Etymology
Edit
Unnamed by characters in the manga and anime.
Description
Edit
A 2-piece suit made of a shirt and leggings. The shirt has an open neck and open cuffs at the wrists and ankles.[1] The suit is often worn with gloves,[2][3] the cuffs and gloves both being tucked under vambraces.
At the Claymore school, trainees wear the standard shirt and leggings, together with a symbol-less dicky. One exception to the standard pattern is the Twin Trainees, whose backless shirt and low-rise shorts are designed to permit shapeshifting.[4]
Usually made from a light gray fabric.[5] An exception is the black fabric worn by Alicia, Beth and on the limbs of Helen. This black fabric appears to stretch indefinitely.
Leggings are pulled on the body before the shirt. Similar to the bottom half of a leotard.



Leggings


ClamshellEdit
The shirt is held in place around the shoulders by sewn-in metal plates that open and close like a clamshell.[6]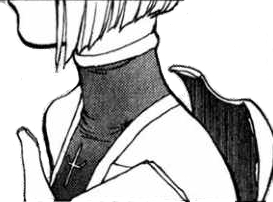 "Clamshell"

The "clamshell" apparently serves as the foundation for the spaulders and sword carrier. The back plate between the shoulders protects the warrior from being cut by her own sword when sheathed in the Carrier.[7]
The back plate has a hook, which resembles the hook used during the Initial Male Era in place of the later sword carrier.[8] When the sword is sheathed in a carrier, it enters a slot. Inside the blade passes through the hook and is thus secured.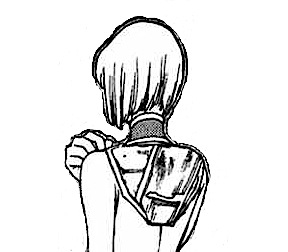 Sword hook on back plate


The shirt and leggings are worn without extra pieces of armor by trainees[9] and off-duty Claymore warriors.[10]
References
Edit
Tankōbon Claymore volumes cited are VIZ Media (en-us) editions, unless otherwise noted. Manga scenes (chapters) not yet translated cite Shueisha tankōbon (ja) editions. Manga scenes not yet published in tankōbon form cite Jump SQ (ja) editions. Fragments of Silver Omnibus (総集編 銀の断章 Gin no Danshou) 1–3, Shueisha, are only available in Japanese. Anime scenes (episodes) cited are FUNimation (en-us) editions, unless otherwise noted.
Community content is available under
CC-BY-SA
unless otherwise noted.