Scene 96

Reloading

Original magazine title

私欲の眼[1] Shiyoku no Manako

Issue, release date

November 2009, 3 October 2009

Tankōbon title

ロートレクの灰燼 I[2] Rōtoreku no Kaijin I, solume 18

US tankōbon title

Ashes of Lautrec, Part 1[3]

New character

Dae

Quote

It has no sense of consciousness...no hunger for flesh...not even an attachment to life...it simply destroys all things that lay around it...consuming everything alive...until it finally perishes...[4]

Region

Locale

Village of Ticelli[6]

Next scene

Previous scene
Cold open
Edit
Surrounded with men wearing surgical-like masks and light body armor, an older man cloaked in black gazes on the Destroyer. He calls it "the ultimate weapon."[7]
He asks if the Organization's Retrieval Squad can take control of the Destroyer, but a staff member demurs. When the man in black asks if a specimen can be obtained, he is revealed as missing half his face, his teeth and eyeball exposed.
Another staff member now addresses the man in black as "Lord Dae." He tells Dae of something strange in the town of Ticelli.[8]
Dae is lead to Raki, wounded with parasitic rods.[9]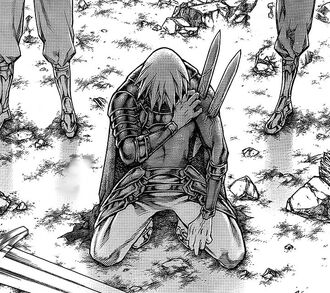 Raki wounded with rods

Dae is surprised Raki is still alive. He orders that Raki be taken back to Organization Headquarters. In case Raki should awaken, Dae is taking a separate route.[10]
DiscoveryEdit
Yuma flees with Cynthia, now too weak to move on her own, due to her healing Helen's eye. They discover Beth under a rocky ledge, her belly penetrated with a rod. Always compassionate, Yuma wants to help, but Cynthia holds her back. They watch Beth and the rod merge into an composite awakened being.[11]
Beth's awakened form resembles headless horseman, a motif appearing in European and US folklore.[12]
End of the beginningEdit
Deneve, Helen and Clare have defeated all the Hellcats. Helen thinks the engagement is over. But Deneve and Clare know otherwise. Another rod volley is about to start.[13]
Additional details
Edit
Cover artEdit
References
Edit
Tankōbon Claymore volumes cited are VIZ Media (en-us) editions, unless otherwise noted. Manga scenes (chapters) not yet translated cite Shueisha tankōbon (ja) editions. Manga scenes not yet published in tankōbon form cite Jump SQ (ja) editions. Fragments of Silver Omnibus (総集編 銀の断章 Gin no Danshou) 1–3, Shueisha, are only available in Japanese. Anime scenes (episodes) cited are FUNimation (en-us) editions, unless otherwise noted.
Community content is available under
CC-BY-SA
unless otherwise noted.