Scene 82

Luciela x Rafaela

Original magazine title

醒めない悪夢[1] Samenai Akumu

Issue, release date

September 2008, 4 August 2008

Tankōbon title

戦いの履歴 V[2] Tatakai no Aireki V, volume 15

US tankōbon title

Genesis of War, Part 5[3]

New character

N/A

Quote

So Rafaela managed...to both kill her sister and protect her at the same time.[4]

Region

Locale

Next scene

Previous scene
Cold open
Edit
Renée regains consciousness. She hangs from ceiling of castle cellar. Her right arm is missing. Below sits Riful.[9]
Renée sees both her legs missing—she screams in terror. But Riful tries to be cordial and offers to let Renée reattach her limbs and even go free if she cooperates. Dauf drags in a strange object covered in chains. He raises it in front of Renée.[10]
As Galatea speaks with Father Vincent, Clarice chases Miata, trying to escape a bath. Vincent is unsurprised by Miata's stigma, which in turn surprises Galatea.[11]
Atop a city battlement, Miria notices Clare's restlessness. Miria tells her and the other Ghosts that the upcoming battle with the Organization and the Abyssal Ones will likely be the last. But before then, everyone should take care of their personal affairs.[12]
Helen wants to revisit her hometown in Mucha. Deneve agrees to accompany Helen.[13]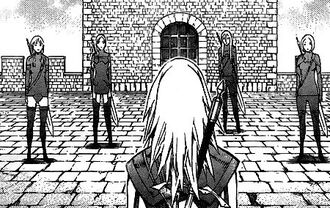 Personal business

Tabitha says she will stay in Rabona with Miria. Miria then assigns Cynthia and Yuma to accompany Clare, much to Clare's chagrin.[14]
Thing of beauty
Edit
Back at Riful's cellar, Renée gazes in horror at the fused bodies of Luciela x Rafaela. Riful tells Renée of her goal to awaken the entity. Or destroy it if it promises to be more powerful than herself.[15]
Additional details
Edit
Cover artEdit
References
Edit
Tankōbon Claymore volumes cited are VIZ Media (en-us) editions, unless otherwise noted. Manga scenes (chapters) not yet translated cite Shueisha tankōbon (ja) editions. Manga scenes not yet published in tankōbon form cite Jump SQ (ja) editions. Fragments of Silver Omnibus (総集編 銀の断章 Gin no Danshou) 1–3, Shueisha, are only available in Japanese. Anime scenes (episodes) cited are FUNimation (en-us) editions, unless otherwise noted.
Community content is available under
CC-BY-SA
unless otherwise noted.