Scene 80

Descendents of the Dragons

Original magazine title

七年の星霜[1] Nananen no Seisō

Issue, release date

July 2008, 4 June 2008

Tankōbon title

戦いの履歴 III[2] Tatakai no Rireki III, volume 15

US tankōbon title

Genesis of War, Part 3[3]

New character

N/A

Quote

He had a little kid with him. Just like you did back then.[4]

Region

Locale

Next scene

Previous scene
Cold open
Edit
Miria tells of the mainland war, where special soldiers are sent deep behind enemy lines.
There, these soldiers would release their Yoma energy and become awakened beings and fight the tribe known as the Dragons' Descendents.[9]
Controlled awakening
Edit
One-way missionEdit
The soldiers would not be permitted to return home, as they could endanger the Anti-dragon allies. Once awakened, they are to fight the Dragons to the death.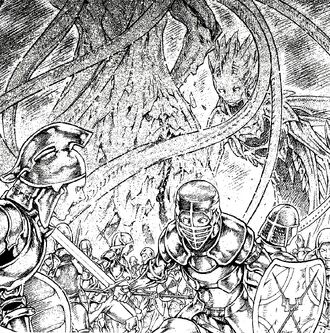 Mainland war

But so dangerous are these soldiers to their own troops, further research was needed to create more controllable awakened—hence the experiments on this isolated island.[10]
Miria reveals the Organization has partially succeeded with warriors No. 1 and 2, Alicia and her twin sister, Beth. When Galatea asks how Miria came by her extensive knowledge, Miria admits to having help, but refuses to give away her sources.
When Galatea asks how she may help the group, Miria puts her in charge of Clarice and Miata.[11]
Aftermath
Edit
NegotiationsEdit
Accompanied by Cynthia and Tabitha, Miria negotiates with Father Vincent in the cathedral.[12]
Beer partyEdit
Meanwhile, Deneve, Helen, Yuma and Clare celebrate at a local tavern with Galk and Sid. On questioning, Sid reveals to Clare that an adult Raki, accompanied by a young girl, was in town. He was looking for Clare.[13]
Galk assures Clare that she and Raki must find each other, someday.[14]
A cloaked man and child show up outside the village of Doga. A passing man on a horse-drawn wagon warns them that a Yoma is in the village. But the cloaked man proceeds.[15]
In Doga, he comes across a crowd of onlookers in the street. The small child on his shoulder points out to a man named Lero. The cloaked man in armor now wields his broadsword and cuts off Lero's left arm, who attacks with extensible claws. But the cloaked man deflects them with vambraces.[16]
The cloaked man cuts the Lero's head in half. As the Yoma dies, he grabs and tears away the cloak—the man in armor is Raki.[17]
Additional details
Edit
Cover artEdit
References
Edit
Tankōbon Claymore volumes cited are VIZ Media (en-us) editions, unless otherwise noted. Manga scenes (chapters) not yet translated cite Shueisha tankōbon (ja) editions. Manga scenes not yet published in tankōbon form cite Jump SQ (ja) editions. Fragments of Silver Omnibus (総集編 銀の断章 Gin no Danshou) 1–3, Shueisha, are only available in Japanese. Anime scenes (episodes) cited are FUNimation (en-us) editions, unless otherwise noted.
Community content is available under
CC-BY-SA
unless otherwise noted.