Scene 75

Agatha invades

Original magazine title

赤き雨[1] Akaki ame (Red rain)

Issue, release date

January 2008, 4 December 2007

Tankōbon title

幼き凶刃 III[2] Osanaki Kyōjin III, volume 14

US tankōbon title

A Child Weapon, Part 3[3]

New character

Agatha

Quote

Sorry. I'm not into monsters.[4]

Region

Locale

Holy City of Rabona[6]

Next scene

Previous scene
Cold open
Edit
Captain Ganesu orders the guards to retreat, as the crab-like, awakened being rampages through Rabona. He says the first priority of the guards is to evacuate the civilians.[7]
"Red rain"Edit
What appears to be a young, naked woman in her 20s, she lies atop the crab, her hair attached to the crab's tentacles.[8]
She grabs several guards, bursting them apart in their armor and drinking their blood, hence the original magazine title, "Red rain",[9] which also alludes to Agatha's nickname 鮮血 (fresh blood).
Galk leads a spear attack on Agatha. But this proves a diversion as Sid attacks Agatha from behind. Agatha captures Sid, but Galatea rescues him, throwing Sid to Clarice, who catches him.[10]
ConfessionEdit
Galatea names the awakened—"Bloody" Agatha, a former No. 2 warrior. When Agatha assumes that Galatea and the purge team comprise an awakened hunt, Galatea reveals the reality—that by leaking her Yoma energy, Galatea gave away her presence and tricked the Organization to send Clarice and Miata to the city. Galatea thought they would help her fight Agatha. But the ploy appears now to have backfired.[11]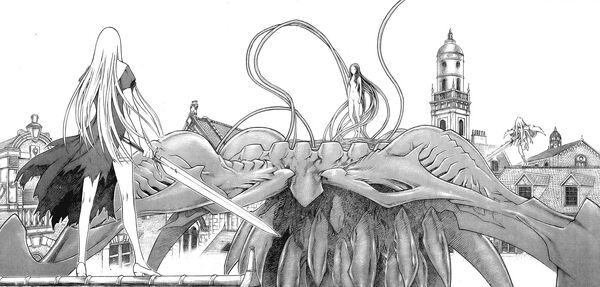 3-way combat

3-way combatEdit
Clarice still tries to carry out her mission to kill Galatea. As Galatea fights Agatha, Miata again tries to kill Galatea.
The effort against Agatha collapses into a 3-way combat.[12] Galatea eventually loses her arm to one of Miata's attack.[13]
Additional details
Edit
Agatha's nickname could also be loosely translated as "red rain," in the sense of blood being present everywhere
Cover artEdit
References
Edit
Tankōbon Claymore volumes cited are VIZ Media (en-us) editions, unless otherwise noted. Manga scenes (chapters) not yet translated cite Shueisha tankōbon (ja) editions. Manga scenes not yet published in tankōbon form cite Jump SQ (ja) editions. Fragments of Silver Omnibus (総集編 銀の断章 Gin no Danshou) 1–3, Shueisha, are only available in Japanese. Anime scenes (episodes) cited are FUNimation (en-us) editions, unless otherwise noted.
Community content is available under
CC-BY-SA
unless otherwise noted.