Scene 73

Hydra awakened

Original magazine title

幼き凶刃[1] Osanaki kyōjin (A child weapon)

Issue, release date

July 2007, 6 June 2007

Tankōbon title

US tankōbon title

A Child Weapon, Part 1[4]

New character

N/A

Quote

To tell the truth...Miata frightens me the most.[5]

Region

Locale

Organization Headquarters,[8] forest, Holy City of Rabona[9]

Next scene

Previous scene
Cold open
Edit
At an Executive meeting, Limt notes how well Clarice has stabilized the mind of Miata. He gives them a new assignment—the purge of Galatea for desertion.[10]
New adventure
Edit
Clarice protests at this. But Limt insists Clarice can do the task with Miata's help.[11]
PreparationsEdit
On the campus of headquarters, Clarice's supervisor outlines the combined covert operation and purge. Rado intructs both Clarice and Miata to take suppressant to hide their Yoma aura from Galatea.[12]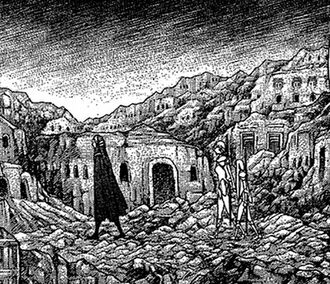 Clarice and Miata following Rado

When Clarice asks how will they find their target if their own powers of aura detection is suppressed. Rado say Miata's "Sixth Sense," a heightened version of human five senses, will find Galatea.[13]
WildernessEdit
Later in the deep wilderness, a Winged Yoma attacks Clarice. But Miata easily destroys it.[14]
Then a Yoma pack attacks. When they pile atop Miata, she tears through their bodies. She pursues a pair of fleeing Yoma, punching one through the neck, then tearing off the head of the other.[15]
Journey's endEdit
Clarice and Miata finally arrive at the Holy City of Rabona. Miata can smell Galatea's presence.[16]
Additional details
Edit
Original magazine title "A Child Weapon" is the name of the 5-scene arc in the tankōbon edition
Last issueEdit
This is the last regular scene that appears in Monthly Shōnen Jump. Jump ceases publication with the July 2007 issue. A miniature model—a "Special metallic-tone Claire Claymore"—is included in an appendix box as a farewell present.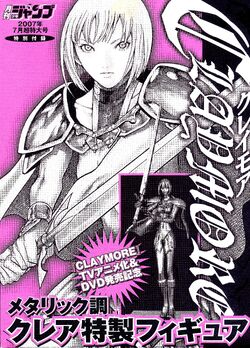 Appendix box

During the 5-month, July–November 2007 hiatus, four "Extra Scenes" appeared monthly in the Weekly Shōnen Jump. These are gaiden and not part of the main narrative of the series.
But the narrative eventually migrates to the Jump SQ December 2007 issue (Scene 74).
Cover artEdit
Small images of Clare and the miniature model appear on the front panel of the cover.



Monthly Shōnen Jump July 2007

References
Edit
Tankōbon Claymore volumes cited are VIZ Media (en-us) editions, unless otherwise noted. Manga scenes (chapters) not yet translated cite Shueisha tankōbon (ja) editions. Manga scenes not yet published in tankōbon form cite Jump SQ (ja) editions. Fragments of Silver Omnibus (総集編 銀の断章 Gin no Danshou) 1–3, Shueisha, are only available in Japanese. Anime scenes (episodes) cited are FUNimation (en-us) editions, unless otherwise noted.
Community content is available under
CC-BY-SA
unless otherwise noted.