Scene 68

Miata

Original magazine title

流転する定め[1] Ruten suru sadame

Issue, release date

February 2007, 6 January 2007

Tankōbon title

抗しうる者 I[2] Kōshi-urumono I, volume 12

US tankōbon title

The Defiant Ones, Part 1[3]

New character

Rachel (unnamed), Audrey (unnamed), Rado, Miata

Quote

Maybe...it was the ghosts of the fallen warriors from seven years ago?[4]

Region

Locale

Forest, Organization Headquarters[7]

Next scene

Previous scene
In the central region of Toulouse, Audrey's hunt takes a break after killing an awakened being. Audrey and Rachel discuss the failed hunt led by Nina. Rachel notes how the hunt members were mysteriously rescued by persons unknown. Rachel jokes that ghosts from the Battle of the North are responsible.[8]
Clarice reports to Chief Limt at an Executive meeting.[9]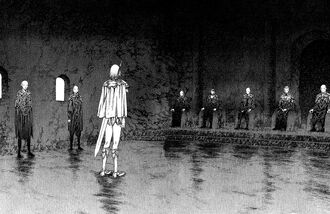 Executive meeting

Clarice describes the mysterious diappearance of the awakened beings that attacked the hunt. Only pools of blood were left behind. And that of the 24 members of the original Pieta battle group, she only counted 17 swords as grave-marks. Seven swords are missing.[10]
Everyone but Rubel dismisses the possibility of survivors. Rubel cannot believe that Miria would allow herself to be killed. In the end, Clarice's report is ignored. Limt replaces Nina with warrior No. 7 (Anastasia, unnamed).[11]
After the meeting, Rado, Clarice's superior, orders her to report to No. 4, Miata. Clarice is to serve as Miata's assistant.[12]
When Clarice enters Miata's apartment, Miata attacks. But instead of killing Clarice, Mitata tears open Clarice's shirt and begins to mimic breastfeeding. A maternal bond begins.[13]
They bask in warmth and sunlight. But their joy is interrupted by Tabitha, who detects an awakened hunt nearby. And a very powerful awakened being.[14]
Riful greets Audrey's hunt.[15]
Small image of Clare appears on front panel of cover.



Monthly Shōnen Jump February 2007

Tankōbon Claymore volumes cited are VIZ Media (en-us) editions, unless otherwise noted. Manga scenes (chapters) not yet translated cite Shueisha tankōbon (ja) editions. Manga scenes not yet published in tankōbon form cite Jump SQ (ja) editions. Fragments of Silver Omnibus (総集編 銀の断章 Gin no Danshou) 1–3, Shueisha, are only available in Japanese. Anime scenes (episodes) cited are FUNimation (en-us) editions, unless otherwise noted.
Community content is available under
CC-BY-SA
unless otherwise noted.