Scene 67

Clare discovers Raki's drawing

Original magazine title

TBA[1]

Issue, release date

January 2007, 6 December 2006

Tankōbon title

魂と共に III[2] Tamashii to Tomo ni III, volume 12

US tankōbon title

The Souls of the Fallen, Part 3[3]

New character

N/A

Quote

All right, let's go. With the souls of the fallen at Pieta.[4]

Region

Locale

Unnamed village, cavern hideout

Next scene

Previous scene

Jack

jack is taking a poop

mike

mike is going to kill his salf

river

river is sleeping and jack is going to kill him

rider

rider kills jack with a shotgun

Grant

GRANT gets shot by joker
Cold open
Edit
Inside a deserted slave holding cell, Clare discovers a drawing of the twin goddesses, Teresa and Clare. She realizes Raki was here.[6]
On the cell wall, Yuma reads a Rune-like inscription—"Teresa and Clare." Clare examines the bars of the cell. She observes a corner where Raki plied open an escape hole.[7]
Cavern hideout
Edit
Later at a cavern hideout, Clare announces to the Ghosts her intent to go south in search of Raki. Suddenly, Miria challenges Clare to sword-fight.[8]
New techniquesEdit
As if on a field of honor, Miria and Clare face off each other, armed with their swords. Clare questions Miria on how one should take this unseemly situation—if Clare goes south, Miria will kill her? Miria brusquely replies she does not care how Clare takes the situation. She orders Clare to attack with all her strength.
During the match, Miria uses the New Phantom, which uses no Yoma power and has unlimited use. Clare responds with a Yoma powerless version of Flora's Windcutter.[9]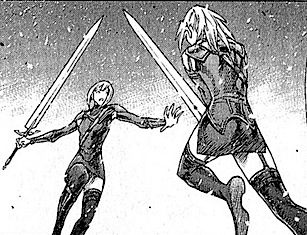 Miria's test

Miria is satisfied that Clare can handle even single-digit warriors. She resigns as group captain and announces her intent to accompany Clare down south.
For her own reasonEdit
But everyone wants to come along. Each warrior has her own personal reason to join. Helen expresses a desire to settle accounts with their enemies. Deneve sees no point in hiding here with her seven years of hard training. Cynthia wants to avenge the deaths of Veronica and the others during the Battle of the North. Tabitha will always follow her captain. Finally, Yuma does not wish to end her days alone in Alfons and would prefer anything to such a fate.[10]
Heading southEdit
It is decided—the seven Ghosts shall journey south, en masse.[11]
Additional details
Edit
Cover artEdit
Clare appears in lower right on front panel of cover.



Monthly Shōnen Jump January 2007

References
Edit
Tankōbon Claymore volumes cited are VIZ Media (en-us) editions, unless otherwise noted. Manga scenes (chapters) not yet translated cite Shueisha tankōbon (ja) editions. Manga scenes not yet published in tankōbon form cite Jump SQ (ja) editions. Fragments of Silver Omnibus (総集編 銀の断章 Gin no Danshou) 1–3, Shueisha, are only available in Japanese. Anime scenes (episodes) cited are FUNimation (en-us) editions, unless otherwise noted.
Community content is available under
CC-BY-SA
unless otherwise noted.