Scene 64

Luciela awakened

Original Magazine Title

捩れた絆[1] Nejireta kizuna

Issue, release date

October 2006, 6 September 2006

Tankōbon title

楽園の血族 III[2] Rakuen no Ketsuzoku III, volume 12

US tankōbon title

Kindred of Paradise, Part 3[3]

New Character

Teresa's Instructor

Quote

Hey, lady...are you an ordinary person?[4]

Region

Locale

Organization Headquarters[7]

Next scene

Previous scene
Warrior No. 1, Luciela, has fully awakened into a feline form during the first Controlled Awakening experiment. She kills half the warriors and trainees, as well as wreaking havoc on Organization Headquarters. [8]
Her younger sister, warrior No. 2, Rafaela, is unable to revert Luciela back to normal. She calls out to Luciela, who leaves the area.[9]
Rubel meets Rafaela in her apartment. He tells her that she has been decommissioned. He further suggests she go into exile.[10]
Rafaela passes through an unnamed village near headquarters. She overhears that twin baby girls have been handed over to the Organization.[11]
At a forest pond, Rafaela meets a young runaway trainee. Almost immediately, the instructor shows up, who explains that the trainee is a "problem child" who run away many times to this place. Suprised by her ability to survive in such a young age in a forest full of Yoma and wild beasts without any weapon Rafaela asks the girl for her name, she replies, "Teresa."[12]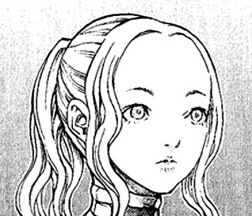 Teresa

After an indeterminate number of years, Rubel finds Rafaela living in cave. He tells her that the now adult Teresa was lost, along with warriors No. 2 through 5. He offers the position of No. 5 to Rafaela, who accepts.[13]
Flash forward to present: a defeated Luciela flees from Isley. Rafaela, who saw the battle, finds Luciela kneeling in a stream. They embrace, but Rafaela breaks Luciela's back, killing her.[14]
Tankōbon Claymore volumes cited are VIZ Media (en-us) editions, unless otherwise noted. Manga scenes (chapters) not yet translated cite Shueisha tankōbon (ja) editions. Manga scenes not yet published in tankōbon form cite Jump SQ (ja) editions. Fragments of Silver Omnibus (総集編 銀の断章 Gin no Danshou) 1–3, Shueisha, are only available in Japanese. Anime scenes (episodes) cited are FUNimation (en-us) editions, unless otherwise noted.
Community content is available under
CC-BY-SA
unless otherwise noted.