Scene 61

Last stand in Pieta

Original magazine title

残された光[1] Nokosa reta hikari (The remaining light)

Issue, release date

July 2006, 6 June 2006

Tankōbon title

ピエタ侵攻 V[2] Pieta Shinkō V, volume 11

US tankōbon title

The Assault on Pieta, Part 5[3]

New character

N/A

Quote

They're very bright...yet they're such ephemeral lights. One more went out. Now just one is left.[4]

Region

Locale

Anime arc

Next scene

Previous scene
Cold open
Edit
As Clare grieves over Jean's corpse, Deneve kicks over Clare's body. She warns Clare that unless she stops her grieving, both Flora and Jean died in vain.[9]
Last stand
Edit
Deneve says, "Or do you want to kill her and Flora all over again?"[10] Reluctantly, Clare picks up her Claymore sword and joins her comrades for their last stand. Deneve says her "battle for revenge starts here." As the Northern Army surrounds the remaining survivors, Miria says it is time for their "last battle."[11]
Back at Organization Headquarters, Galatea disrupts an Executive meeting, where she and Chief Limt argue over the sacrifice of 24 warriors as a tactic to gain time to ready Alicia.[12]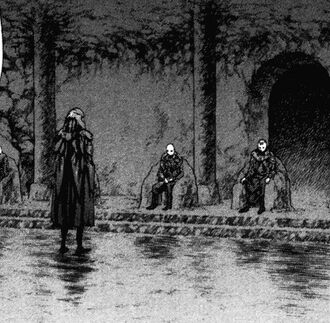 Executive chamber

After Galatea leaves, Limt says the Organization should hurry the completion of the new "Eyes."[13] Possible allusion to Renée.
Inside a ballroom at Isley's manor, Raki practices sword-fighting with Isley. When Raki pushes himself too hard, he falls to the floor. Isley then orders Raki to rest. Isley then notices that Priscilla is missing and asks Raki to find her.[14]
Outside in the snow, Raki finds her naked at the edge of a cliff. Unknown to Raki, she is sensing the fighting going on in Pieta. Isley joins them.[15]
Cynthia goes down—Helen counterattacks, cursing the awakened beings. Deneve, Clare and Miria are still standing.[16]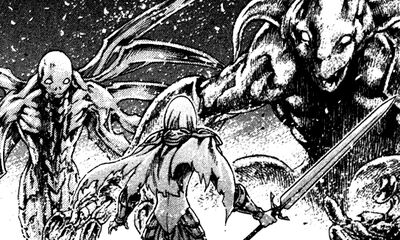 Helen near the end

The remaining lightEdit
Tearfully, Priscilla senses the warriors' auras going out like lights, one-by-one, till the remaining light disappears.[17]
Additional details
Edit
Anime versus manga:

In the anime, the sword practice session takes place in a forest
The Northern Army has already retreated from Pieta
When Raki searches for Priscilla, he finds her in a cave, eating a man's corpse
Galatea is sent to Alfons to observe the battle
Cover artEdit
References
Edit
Tankōbon Claymore volumes cited are VIZ Media (en-us) editions, unless otherwise noted. Manga scenes (chapters) not yet translated cite Shueisha tankōbon (ja) editions. Manga scenes not yet published in tankōbon form cite Jump SQ (ja) editions. Fragments of Silver Omnibus (総集編 銀の断章 Gin no Danshou) 1–3, Shueisha, are only available in Japanese. Anime scenes (episodes) cited are FUNimation (en-us) editions, unless otherwise noted.
Community content is available under
CC-BY-SA
unless otherwise noted.