Scene 41

The twin goddesses

Original magazine title

大切な者[1] Taisetsuna-sha (A precious person)

Issue, release date

November 2004, October 2004

Tankōbon title

魔女の顎門 I[2] Majo no Agito I, volume 8

US tankōbon title

The Witch's Maw, Part 1[3]

New character

Limt, Inn-keeper, Jean (unnamed), young girl, wounded Claymore warrior

Quote

He's very important to me. I care about him so much that I'd promised to find if even if I had to risk my life.[4]

Region

Locale

Organization Headquarters,<[7] town of Hamel (unnamed), Zakol Mountains[8]

Anime arc

Next scene

Previous scene
Cold open
Edit
No cold open. Color plate of Clare dappled in shadows from the original magazine publication.[9]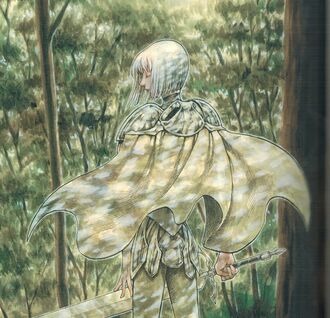 Clare from Memorabilia

At Organization Headquarters in the eastern region of Sutafu, the Executive meets with Rubel. The awakened body of Ophelia has been found in the mountains beyond Gonahl. The chief, Limt, asks if Clare killed Ophelia. Rubel expresses doubts about Clare's ability to do this.[10]
Executive members debate whether Clare's transplant of Teresa's flesh and blood succeeded or not.[11]
Limt orders Ermita to find Clare.[12] Ermita laconically replies, "Understood."[13]
In unnamed town (named Hamel in the anime), Clare searches for Raki. She checks in at a local inn. From up in her room, she watches the Zakol hunt leaving town.[14]
Despite Clare's suppressant, the hunt leader (Jean) detects Clare's presence. But Jean shrugs it off as her imagination.[15]
Next morningEdit
Clare gets up early. The innkeeper tells her the Claymores left for the Zakol Mountains. Clare resumes her search before they return.[16]
In town, she comes across two children arguing about a Teresa and Clare statue. They mention talking to a stranger. When Clare asks the young girl, Sister, about the stranger, Sister describes someone resembling Raki, who asked about the statue.[17]
When Sister asks who the stranger is, Clare says that he is someone very important to her and that she would risk her life to find him.
A woman screams. A fatally wounded, unnamed warrior staggers into town. As she falls, Clare catches her.[18]



Survivor

The warrior tells Clare that the hunt was captured. Before she dies, she realizes Clare is a sister warrior.[19]
Back to dutyEdit
Clare asks the townspeople to give the warrior a human burial. When a man warns against going to the mountains, Clare sheds her disguise.[20]
Additional details
Edit
First appearance of the goddesses Teresa and Clare
Sister is physically similar to "Sana,"[21] a character in Norihiro Yagi's earlier series, Angel Densetsu
The nameless, hime-hair hunt survivor is retconned "Raquel" in the anime voice actor credits
References
Edit
Tankōbon Claymore volumes cited are VIZ Media (en-us) editions, unless otherwise noted. Manga scenes (chapters) not yet translated cite Shueisha tankōbon (ja) editions. Manga scenes not yet published in tankōbon form cite Jump SQ (ja) editions. Fragments of Silver Omnibus (総集編 銀の断章 Gin no Danshou) 1–3, Shueisha, are only available in Japanese. Anime scenes (episodes) cited are FUNimation (en-us) editions, unless otherwise noted.
Community content is available under
CC-BY-SA
unless otherwise noted.