Scene 4

Elena on Mount Shire

Original magazine title

黒の書[1] Kuro no sho (The black certificate)

Issue, release date

October 2001, 6 September 2001

Tankōbon title

Same as the original, volume 1[2]

US tankōbon title

The Black Card[3]

New character

Elena

Quote

There was so much pain back then, but for some reason I only remember the good times.[4]

Region

Locale

Mount Shire[6]

Anime arc

Next scene

Previous scene
Cold open
Edit
In the desert, Raki's stomach growls from hunger. In response Clare throws her sword backward.[7]
The sword kills a lizard many meters away.[8]
That night at an oasis, Raki roasts the lizard over a campfire. But Clare only take a few bites. Being a Claymore warrior, she needs little food. She leaves camp, warning Raki not to follow.[9]
In the forest, she meets Rubel, who brings a new shirt and leggings to replace the ones damaged by the Awakened Claymore.[10]
Rubel examines Clare's wound. He alludes to Clare's stigma, asking what would Raki think if he sees it.[11]
He warns Clare not to get too attached to Raki. Before leaving, he gives her a new assignment—a black card.[12]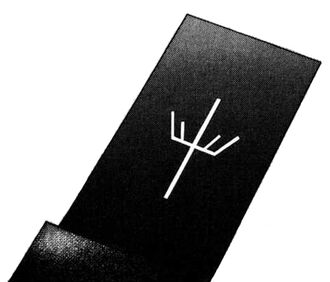 Elena's black card

She recognizes the symbol's owner.[13]
Mount Shire
Edit
Rendezvous with deathEdit
The next day they reach Mount Shire. When Raki asks why they are here, Clare explains the black card system. When a warrior can no longer control awakening, and is in danger of becoming a Yoma, she sends her black card to someone she trusts to euthanize her, so she can die human.[14]
They finally meet Elena, Clare's best friend during their school days.[15]
Despite Raki's protests, Clare attacks a passive Elena, delivering a fatal slash. A dying Elena thanks Clare for letting her die a human. Later, Clare buries Elena, using Elena's Claymore sword as her grave-mark.[16]
Additional details
Edit
During the Silver-eyed Slayer arc, the concept of Claymore warriors becoming awakened beings has yet to be developed
Elena physically resembles "Kiyomi Kaburagi,"[17] a photographer in Norihiro Yagi's earlier series, Angel Densetsu. But her personality greatly differs from Elena
In the anime, Raki meets Rubel at a local inn[18]
Cover artEdit

Monthly Shōnen Jump October 2001

References
Edit
Tankōbon Claymore volumes cited are VIZ Media (en-us) editions, unless otherwise noted. Manga scenes (chapters) not yet translated cite Shueisha tankōbon (ja) editions. Manga scenes not yet published in tankōbon form cite Jump SQ (ja) editions. Fragments of Silver Omnibus (総集編 銀の断章 Gin no Danshou) 1–3, Shueisha, are only available in Japanese. Anime scenes (episodes) cited are FUNimation (en-us) editions, unless otherwise noted.
Community content is available under
CC-BY-SA
unless otherwise noted.