Scene 35

Making a name

Original magazine title

一縷の望み[1] Ichirunonozomi (A ray of hope)

Issue, release date

May 2004, April 2004

Tankōbon title

果てなき墓標 V[2] Hate-naki Bohyō V, volume 7

US tankōbon title

The Endless Gravestones, Part 5[3]

New character

N/A

Quote

But it's not too well known yet. Because most of the people who've seen it are dead.[4]

Region

Locale

Forest

Anime arc

Next scene

Previous scene
Cold open
Edit
Clare travels the opposite direction of Raki's path, while knowing that Ophelia will follow her. And as expected, Ophelia catches up. The two confront each other at the edge of a canyon.
Ophelia berates Clare's performance and threatens to kill her.[6]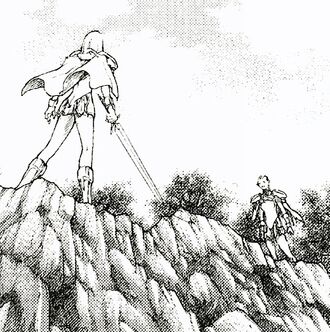 Edge of combat

"Rippling Sword"Edit
As Clare counters Ophelia's conventional sword moves, Ophelia realizes Clare is using Preemptive Sensing.[7] She switches to her Rippling Sword technique.[8]
Now Clare cannot anticipate Ophelia's attacks. By vibrating the blade, Ophelia creates an optical illusion of an undulating snake.[9]
Making a nameEdit
Ophelia mocks Claymore warrior nicknames.[10]
She proclaims herself "Rippling Ophelia." But adds that her "nickname" is not well known as most people who seen the Rippling Sword are dead.[11]
Last ditch attempt
Edit
Clare charges Ophelia, who cut off her right arm. Clare "falls" over the cliff into the river.[12]
Clare's gambitEdit
Clare crawls from the river downstream, her severed arm held in her mouth. But Ophelia appears. Ophelia guesses that Clare let her cut off her arm, then cut her torso—a gambit to make Ophelia think Clare was finished. What gave Clare away was that she never let go of her arm.[13]
Personality typesEdit
Ophelia introduces the concept of personality types among warriors. She divides warriors between the Offensive type versus the Defensive type. Offensive warriors cannot completely regenerate themselves. They can reattach a lost limb, but a completely generated one would be no stronger than a normal human's.[14]
Ophelia does not intend to allow Clare to reattach her arm, so she shreds it apart.[15]
Additional details
Edit
In the anime, Ophelia names the Offensive type as an "Attacker" and the Defensive type as "Tactical Defense"[16]
References
Edit
Tankōbon Claymore volumes cited are VIZ Media (en-us) editions, unless otherwise noted. Manga scenes (chapters) not yet translated cite Shueisha tankōbon (ja) editions. Manga scenes not yet published in tankōbon form cite Jump SQ (ja) editions. Fragments of Silver Omnibus (総集編 銀の断章 Gin no Danshou) 1–3, Shueisha, are only available in Japanese. Anime scenes (episodes) cited are FUNimation (en-us) editions, unless otherwise noted.
Community content is available under
CC-BY-SA
unless otherwise noted.