Scene 34

Shut-up kiss

Original magazine title

祈り[1] Inori (Prayer)

Issue, release date

April 2004, March 2004

Tankōbon title

果てなき墓標 IV[2] Hate-naki Bohyō IV, volume 7

US tankōbon title

The Endless Gravestones, Part 4[3]

New character

N/A

Quote

I promise you...I won't die. I'll live...and I'll find you...so stay alive![4]

Region

Locale

Forest, ruins of Gonahl[6]

Anime arc

Next scene

Previous scene
Clare flees "due north" with Raki through a Lautrec forest as Ophelia combats the Former Single-digit awakened.[7]
In the ruins of Gonahl the combat continues. Single-digit finally outmaneuvers Ophelia and catches her unawares, then twists and breaks Ophelia's neck. She thinks Ophelia is dead and casts her aside.[8]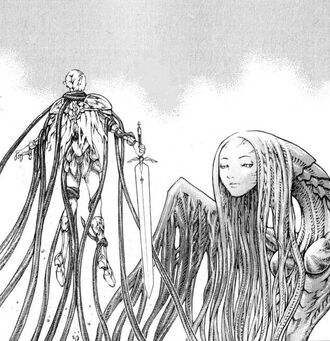 Ophelia caught

But Ophelia springs to life and decapitates Single-digit. The head of Single-digit is still able to speak. When she denounces Ophelia as the monster, Ophelia slices up the head like a meatloaf.[9]
Clare senses Ophelia's victory. Only a short time exists before Ophelia finds them. In a drastic decision, Clare orders Raki to flee to the "northwest," while she lures Ophelia in the opposite direction to the "northeast."[10] In reality, such directions would put everyone in the ocean. See Notes below.
Raki protests, wanting to stay with Clare. But she gives him a "shut-up kiss," saying three things: be quiet, that she cares for him, and farewell.[11]
She promises to stay alive and search for him.[12] Finally, he relents and flees with Galk's sword.[13]
Meanwhile in Gonahl, Ophelia fixes her neck. Now she is ready to hunt Clare.[14]
The decapitated talking head trope is to be repeated with Armadillo awakened during the Battle of the North
The three northern directions that Clare gives are physically impossible according to both the world map and Clare's own testimony
Gonahl is on the northern coast of Lautrec and north of that locale is the ocean. Clare herself declares earlier in Scene 31 that she and Raki walked "to the end of the continent"
Tankōbon Claymore volumes cited are VIZ Media (en-us) editions, unless otherwise noted. Manga scenes (chapters) not yet translated cite Shueisha tankōbon (ja) editions. Manga scenes not yet published in tankōbon form cite Jump SQ (ja) editions. Fragments of Silver Omnibus (総集編 銀の断章 Gin no Danshou) 1–3, Shueisha, are only available in Japanese. Anime scenes (episodes) cited are FUNimation (en-us) editions, unless otherwise noted.
Community content is available under
CC-BY-SA
unless otherwise noted.