Scene 32

Testing Clare

Original magazine title

血の遊戯[1] Chi no yūgi (Game of blood)

Issue, release date

February 2004, January 2004

Tankōbon title

果てなき墓標 II[2] Hate-naki Bohyō II, volume 6

US tankōbon title

The Endless Gravestones, Part 2[3]

New character

Former Single-digit awakened

Quote

Why don't we play a game?[4]

Region

Locale

Ruins of Gonahl[6]

Anime arc

Next scene

Previous scene
In a flashback to the Paburo Mountains, Miria realizes she neglected to warn Deneve, Helen and Clare to especially avoid one single-digit warrior above all—Ophelia.[7]
Flashing forward to the ruins of Gonahl, Raki's attack freed Clare in the previous scene. Ophelia notices that Clare blanched when she saw Ophelia's symbol. When Ophelia attacks Raki in retaliation, Clare block her move. Clare warns Ophelia that by killing Raki, Ophelia will forfeit her life.[8]
But Ophelia replies only if there are living witnesses. Which she does not intend on leaving behind.[9]
Ophelia suggests playing a game, which she begins by cutting off Clare's legs. She challenges Clare to reattach them as she fights Raki in a sword-match.
With each passing minute, Ophelia increase her skill level, till Raki is killed. Clare struggles to reattach her legs.[10]
A ragged, young girl appears. She is amazed at her luck—two Claymore warriors and a young boy. Raki tries to warn her away. But she asks why would she want to leave. She awakens into the Former Single-digit awakened.[11]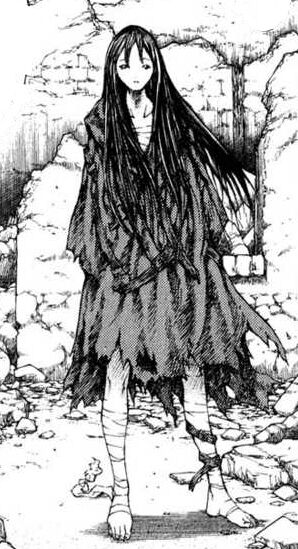 Former Single-digit

She says that Raki smells "so delicious, he's irresistible."[12]
The Former Single-digit is named the "Awakened Claymore" in the Japan anime; and the "Girl Awakened Being" and "Awakened Girl" in the US anime
Tankōbon Claymore volumes cited are VIZ Media (en-us) editions, unless otherwise noted. Manga scenes (chapters) not yet translated cite Shueisha tankōbon (ja) editions. Manga scenes not yet published in tankōbon form cite Jump SQ (ja) editions. Fragments of Silver Omnibus (総集編 銀の断章 Gin no Danshou) 1–3, Shueisha, are only available in Japanese. Anime scenes (episodes) cited are FUNimation (en-us) editions, unless otherwise noted.
Community content is available under
CC-BY-SA
unless otherwise noted.