Scene 30

Clare from Memorabilia

Original maagazine title

限界超えし者たち[1] Genkai koe shi-sha-tachi (Those who exceed their limits)

Issue, release date

December 2003, November 2003

Tankōbon title

斬り裂く者たち VI[2] Kirisakumono-tachi VI, volume 6

US tankōbon title

The Slashers, Part 6[3]

New Character

Hilda (unnamed), Ophelia (unnamed), Ermita, Galatea (No. 3)

Quote

I don't recall making a monster my child.[4]

Region

Unknown region (flashback), Toulouse[5]

Locale

Unnamed mountain (flashback), Paburo Mountains[6]

Anime arc

Next scene

Previous scene
No cold open. Color plate of Clare in the original Monthly Shōnen Jump publication.[7]
In a flashback, Miria relives the night she unknowingly killed her best friend during an awakened hunt. After her friend dies, a grieving Miria nearly awakens herself.
Ophelia (unnamed) appears out of nowhere and waits for Miria to fully awaken, the implication being that Ophelia wishes to fight the awakened Miria.[8]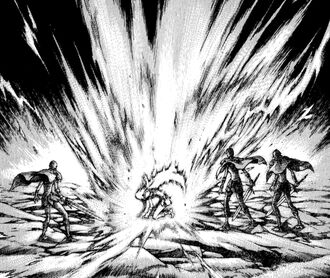 Miria awakens

Back in the Paburo Mountains, Miria suspects that she, Deneve, Helen and Clare are partially awakened even now. Miria also claims she has discovered the Organization's greatest secret.[9]
Beyond the Paburo Mountains, a statuesque Claymore warrior remote views the Paburo hunt.[10]
Ermita listens to her report. Her Wide Area Sensing is so acute, she reads the thoughts and emotions of the party. She notes unease as Miria speaks. And even a tragic event in Clare's past.[11]
Miria notes that whether the four warriors can continue to control their awakening remains to be seen.
Deneve's wound is serious. If she awakens and heals her wound, she may not be able to return. In that case her companions are to kill her. But if she does nothing, she dies anyway.[12]
Deneve awakens, Helen and Clare ready to behead her if she cannot return.[13]
The Organization's Eyes, named Galatea, notes more unusual activity among the hunt, but is uncertain what is happening.[14]
But Deneve recovers.[15]
Elsewhere, Galatea reports that all members of the hunt are all right. Disappointed, Ermita warns that Galatea may cross swords with them someday.[16]
Tankōbon Claymore volumes cited are VIZ Media (en-us) editions, unless otherwise noted. Manga scenes (chapters) not yet translated cite Shueisha tankōbon (ja) editions. Manga scenes not yet published in tankōbon form cite Jump SQ (ja) editions. Fragments of Silver Omnibus (総集編 銀の断章 Gin no Danshou) 1–3, Shueisha, are only available in Japanese. Anime scenes (episodes) cited are FUNimation (en-us) editions, unless otherwise noted.
Community content is available under
CC-BY-SA
unless otherwise noted.