Scene 16

Retrieving Clare

Original magazine title

TBA[1]

Issue, release date

October 2002, September 2002

Tankōbon title

微笑のテレサ V[2] Bishō no Teresa V (Teresa of the minute smile V), volume 4

US tankōbon title

Teresa of the Faint Smile, Part 5[3]

New character

Clare's foster family

Quote

You can live here as a human and die as one. And that, in itself...is the greatest happiness a person can have.[4]

Region

Locale

Village of Rokut

Anime arc

Next scene

Previous scene
Cold open
Edit
At a Rokut dress-shop, Teresa has Clare try on new clothes. Despite Clare's protest over the expense, Teresa buys the outfit anyway as she has little use for the money she has.[5]
Saying farewell
Edit
Later out on a street, Teresa kills a Yoma, completing her assignment.[6] She speaks with the general public and finds a couple willing to adopt Clare. Clare strips off her new outfit and says she does not need any new clothes, only Teresa.
But Teresa is adamant. She leaves Clare in the care of an adoptive family. Despite Clare's pleads, Teresa insists that Clare should live among normal humans. Teresa says farewell and leaves Rokut.[7]
Bandit raid
Edit
As she walks down the road, the gang of bandits gallop past her. She realizes that the Yoma was the only thing protecting the town from the bandits.[8]
She races back, but the most of the villagers are dead. On horseback, Boss uses his Falcon Sword to kills a villager.[9] Teresa arrives in time to see Rig dragging an unconscious Clare. He taunts Teresa by insinuating the future of abuse he plans for Clare.
Teresa retrieves Clare, taking Rig's remaining hand with them. As Rig demands that Teresa return his hand, his body fall to pieces.[10]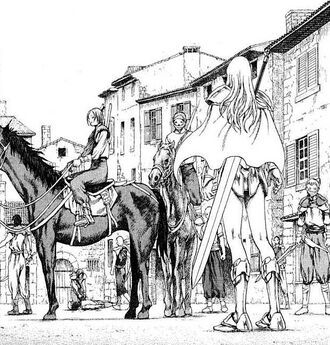 Confronting the bandits

Teresa tells the bandits that she intends to kill them all.[11]
Additional details
Edit
The anime depicts a slightly different version of events, in which the bandit raid occurs at night
Cover artEdit

Monthly Shōnen Jump October 2002

References
Edit
Tankōbon Claymore volumes cited are VIZ Media (en-us) editions, unless otherwise noted. Manga scenes (chapters) not yet translated cite Shueisha tankōbon (ja) editions. Manga scenes not yet published in tankōbon form cite Jump SQ (ja) editions. Fragments of Silver Omnibus (総集編 銀の断章 Gin no Danshou) 1–3, Shueisha, are only available in Japanese. Anime scenes (episodes) cited are FUNimation (en-us) editions, unless otherwise noted.
Community content is available under
CC-BY-SA
unless otherwise noted.