Scene 15

Being human

Original magazine title

TBA[1]

Issue, release date

September 2002, August 2002

Tankōbon title

微笑のテレサ IV[2] Bishō no Teresa IV (Teresa of the minute smile IV), volume 3

US tankōbon title

Teresa of the Faint Smile, Part 4[3]

New character

N/A

Quote

The one being comforted...was me?[4]

Region

Locale

Forest near Rokut

Anime arc

Next scene

Previous scene
Cold open
Edit
Teresa and Clare are in sight of the town of Rokut. Teresa assures Clare that they should reach the town by tomorrow night.[5]
That night in the forest, as Clare sleeps before the campfire, Teresa goes off into the forest. She knows Rig has been following them. She waits for Rig, who immediately appears.[6]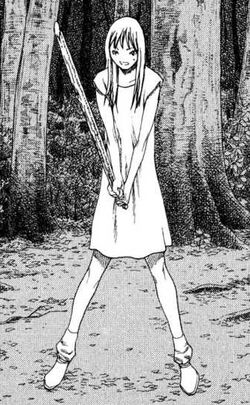 Clare as combatant

Rig wants to avenge the loss of his hand by physically abusing Teresa.
But Teresa feels already degraded by her past and cannot sink any further down. Blase, she consents to sex. But Clare hits Rig with a stick. Rig strikes back, but before he can seriously hurt Clare, Teresa grabs his dirk and threatens to behead him. Rig flees.[7]
Clare speaks
Edit
Clare finally speaks. Instead of recoiling horror, Clare hugs Teresa's exposed stigma, asking if it hurts. She says back in Teo, she saw the same pain in Teresa's eyes as Clare sees in herself.[8]
The two finally bond as mother and daughter.[9]
Additional details
Edit
Artistic license is used in depicting the physical distance of Rokut in the cold open. Teresa says it will take a day and night to traverse the modern equivalent of one or two city blocks
Rig carries in a leg sheath a bladed weapon, which resembling the Scottish Highland dirk
Cover artEdit

Monthly Shōnen Jump September 2012

References
Edit
Tankōbon Claymore volumes cited are VIZ Media (en-us) editions, unless otherwise noted. Manga scenes (chapters) not yet translated cite Shueisha tankōbon (ja) editions. Manga scenes not yet published in tankōbon form cite Jump SQ (ja) editions. Fragments of Silver Omnibus (総集編 銀の断章 Gin no Danshou) 1–3, Shueisha, are only available in Japanese. Anime scenes (episodes) cited are FUNimation (en-us) editions, unless otherwise noted.
Community content is available under
CC-BY-SA
unless otherwise noted.