Jurassic World: Dominion Dominates Fandom Wikis - The Loop
Play Sound
Scene 131

Tapeworm awakened

Original magazine title

聖都の前哨[1] Seito no zenshō (Sentinels of the Holy City)

Issue, release date

November 2012, 4 October 2012

Tankōbon title

戦士の刻印 IV,[2] volume 23

US tankōbon title

N/A

New character

Origami awakened, Tapeworm awakened

Quote

I know—it's Rafaela's style of combat, a technique inherited from Rafaela's memory and emotions.[3]

Region

Locale

Holy City of Rabona[5]

Next scene

Previous scene
Cold open
[
]
Twin towers explode in Rabona. Inside each tower, a female awakened recovers from being hurled back by the Destroyer–Priscilla combat.
The towers burst apart as they awakened into huge tapeworm- and origami bird-like forms. The Tapeworm awakened has tapeworm-shaped tentacles. The Origami awakened has a Smiley head.[6]
Two combats
[
]
Origami awakened

[

]
A craving for flesh and blood overtakes the awakeneds. Rabona guards attack with spears. As Origami lands in the street, archers fire flaming arrows from the rooftops above. But neither spears nor arrows have any effect.[7]
Miata then Clarice attack. Clarice is thrown back, but is rescued by Cynthia and Yuma.[8]
Origami attacks Sid, who is yanked back by Deneve.[9]
Tapeworm awakened

[

]
Miria and Clare dodge Tapeworm's attack. Tapeworm bristles with dozens of armless torsos, each identical—only one contains the vital organs, according to Tabitha. But the Ghosts' Eyes, Tabitha, notes that the situation is complicated by the awakened's aura spread evenly among the torsos.[10]
Miria and Clare race to find the vital core. Clare realizes her movements are those of Rafaela, who used a Yoma energy membrane technique, allowing Clare to sense movement beyond her peripheral vision. Miria and Clare reach the last torso and together they make the final strike.[11]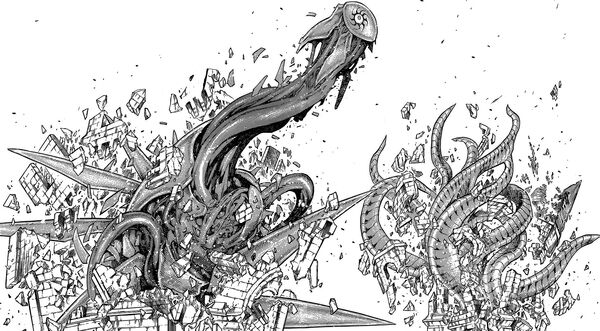 Two awakened beings

Galatea

[

]
Deneve and Co. still confront Origami. Miata again attacks and creates a massive wound, but Origami instantly regenerates. Deneve observes that only a single attack that destroys most of the body will work.[12]
Helen winds up her arm 55 times for a Drill Sword attack. Before Origami can escape, Galatea uses her technique to immobilize her. Helen's attack destroys Origami.[13]
Raki
[
]
Atop a city battlement, Raki ponders Clare's quest for revenge. Though he understands Clare's motives, he is still puzzled by Priscilla's. Suddenly Chronos and Lars approach Raki for a talk.[14]
Additional details
[
]
Notes

[

]
Cover art

[

]
References
[
]
Tankōbon Claymore volumes cited are VIZ Media (en-us) editions, unless otherwise noted. Manga scenes (chapters) not yet translated cite Shueisha tankōbon (ja) editions. Manga scenes not yet published in tankōbon form cite Jump SQ (ja) editions. Fragments of Silver Omnibus (総集編 銀の断章 Gin no Danshou) 1–3, Shueisha, are only available in Japanese. Anime scenes (episodes) cited are FUNimation (en-us) editions, unless otherwise noted.