Scene 124

Hysteria launches

Original magazine title

戦士の翼[1] Senshi no tsubasa ("Warrior's wings")

Issue, release date

April 2012, 3 March 2012

Tankōbon title

深淵の爪と牙 V,[2] volume 22

US tankōbon title

Claws and Fangs of the Abyss, Part 5

New character

N/A

Quote

Spun by eight of my comrades...these are my wings.[3]

Region

Locale

Organization Headquarters[5]

Next scene

Previous scene
Cold open
[
]
Deneve and the Ghosts watch as Miria draws Hysteria into the maelstrom between Cassandra and Roxanne. [6]
Molting
[
]
Cassandra continues eating as she battles Roxanne.[7] Using Flexible Limb Stretching, Helen again loosens the anchoring blades, unbalancing Hysteria's movement. Miria attacks from the rear.[8]
Suddenly, Hysteria sheds her corseted, pupal shell, molting into a mosquito form, with wings faster than her old avian ones.[9]
Barrage
[
]
Despite the proximity of the Hysteria-Miria dual, Cassandra and Roxanne fight on, oblivious to the other battle. Roxanne launches her faulds-like blades at Cassandra.[10]
Miria's trap II
[
]
Escape hatch

[

]
Wounding Cassandra, there is a lull in the fighting as Roxanne steps on Cassandra's face.[11] Meanwhile, Miria's comrades devise an escape plan. Anastasia weaves together several hair strands into a cord, into which all eight warriors begin to inject Yoma power, with four warriors on each end.[12]
No longer needing her blades to control her direction, Hysteria becomes even faster than before.[13]
Ground zero

[

]
Miria is losing the fight, being wounded repeatedly by Hysteria. But Miria doggedly lures Hysteria into position. Cassandra dares Roxanne to use up her blades. Just before Roxanne launches her final volley to finish off Cassandra, Miria's feet touch on Anastasia's cord of hair.[14]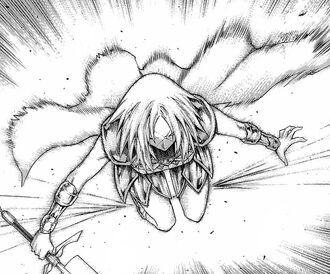 Miria taking off

Then Miria launches herself at hyper-speed past Hysteria, leaving Hysteria at ground zero.[15]
Additional details
[
]
Notes

[

]
Cover art

[

]
References
[
]
Tankōbon Claymore volumes cited are VIZ Media (en-us) editions, unless otherwise noted. Manga scenes (chapters) not yet translated cite Shueisha tankōbon (ja) editions. Manga scenes not yet published in tankōbon form cite Jump SQ (ja) editions. Fragments of Silver Omnibus (総集編 銀の断章 Gin no Danshou) 1–3, Shueisha, are only available in Japanese. Anime scenes (episodes) cited are FUNimation (en-us) editions, unless otherwise noted.