Scene 113

Rubel pays a call

Original magazine title

反逆の矛先[1] Hangyaku no Hokosaki (Brunt of the Rebellion)

Issue, release date

April 2011, 4 March 2011

Tankōbon title

魔爪の残滓 IV Masō no Zanshi IV, volume 20[2]

US tankōbon title

Remains of the Demon Claw, Part 4[3]

New character

Cassandra, Hysteria (unnamed), Roxanne (unnamed)

Quote

Of those whose bodies are complete...I choose the strongest three.[4]

Region

Locale

Organization Headquarters,[6] research facility

Next scene

Previous scene
Rubel visits Dae working in a laboratory at Organization Headquarters. The corpses of three former No. 1 Claymore warriors—Cassandra, Hysteria and Roxanne—await reanimation.[7]
A superior enters and demands that Dae finish resurrecting the corpses as quickly as possible. Then he orders Rubel to an emergency meeting of the Man in Black. A research facility is under attack by rebel warriors.[8]
The Ghosts, Anastasia's hunt and Dietrich destroy a Yoma-making facility. Tabitha says her decision to destroy the facility is what Miria herself would have done.[9]
An unnamed Organization official rallies the warriors to battle. He says that that rebel warriors are heading toward Headquarters and that everyone must defend the Organization.[10]
In flashback, an unnamed warrior remembers how Miria cut down all the warriors, yet spared everyone's life.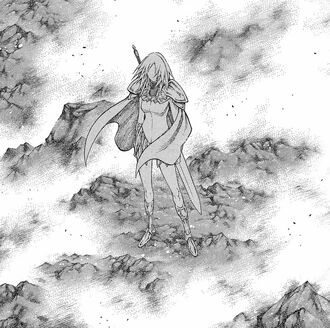 The Phantom

The flashback ends with the warriors cutting down Miria.[11]
But instead of going into the mountains and battle the rebels, the warriors stop en masse. A Man in Black demands an explanation.[12]
Suddenly, a another warrior appears—Miria.[13]
Tankōbon Claymore volumes cited are VIZ Media (en-us) editions, unless otherwise noted. Manga scenes (chapters) not yet translated cite Shueisha tankōbon (ja) editions. Manga scenes not yet published in tankōbon form cite Jump SQ (ja) editions. Fragments of Silver Omnibus (総集編 銀の断章 Gin no Danshou) 1–3, Shueisha, are only available in Japanese. Anime scenes (episodes) cited are FUNimation (en-us) editions, unless otherwise noted.
Community content is available under
CC-BY-SA
unless otherwise noted.