Scene 111

Counterattack

Original magazine title

羽根持ちの所以[1] Hanemochi no Yuen (Reason for Wings)

Issue, release date

February 2011, 6 January 2011

Tankōbon title

魔爪の残滓 II[2] Masō no Zanshi II, volume 20

US tankōbon title

Remains of the Demon Claw, Part 2[3]

New character

N/A

Quote

Along the way...we crush anything in our path.[4]

Region

Locale

Mountains

Next scene

Previous scene
Cold open
[
]
Anastasia's hunt is now surrounded by awakened beings.[6]
Counterattack
[
]
Phina is down

[

]
The extensible claws from an awakened pin down Phina. Anastasia cuts Phina free, then attacks the awakened from the rear, midair as if floating.[7]
Invisible trampoline

[

]
Nike orders Keira to hold on tight to Phina, then Nike grabs Keira's sword carrier and throws them toward the awakened.
They bounce and ricochet on something unseen about the awakened's head. Somersaulting over the awakened, they land many meters away.[8]
The awakeneds begin to move strangely, waving their arms in the air and stomping the ground. Nike chastises Anastasia for "showing off." Keira wonders what is happening.[9]
Secret revealed

[

]
Nike tells Keira to use her Yoma energy to look around. Keira discovers what she bounced on, as well as the secret to Anastasia's ability to "float"—the Winged Technique.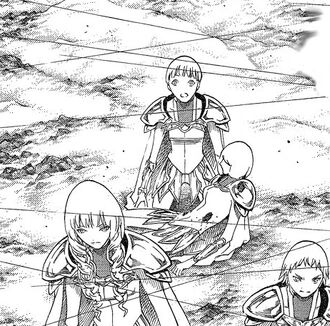 Anastasia's secret

Anastasia's hair strands, super-stretchable, are attached to awakened beings and surrounding objects. She uses the hair as scaffolding. But the awakeneds discovered and broke all the hair.[10]
Retreat
[
]
Last stand

[

]
Despite initial victories, the warriors are outnumbered. Nike orders Keira to flee with the wounded Phina. Nike stays behind, expecting to die with Anastasia as they make their last stand.[11]
As Keira flees with an unconscious Phina, a Ghost watches.[12]
The unexpected

[

]
During the fighting, Anastasia takes a hit and goes down. The two warriors appear doomed. Suddenly, a single sword thrust punctures an awakened's head. The sword owner seems "invisible." Now the awakened beings disintegrate before unseen attackers.[13]
The Ghosts and Dietrich finally slow down enough to appear visible. Deneve says they intend to destroy whatever stands in their way.[14]
Additional details
[
]
Notes

[

]
Artistic license is used in depicting a sword thrust by an "invisible hand" too fast to see[15]
This single sword thrust is often mistaken for Deneve using a thrown sword, despite Deneve holding[16] and using both swords[17]
The only known users of the thrown sword are the weaker warriors, such as Uma and the early Clare
Cover art

[

]
References
[
]
Tankōbon Claymore volumes cited are VIZ Media (en-us) editions, unless otherwise noted. Manga scenes (chapters) not yet translated cite Shueisha tankōbon (ja) editions. Manga scenes not yet published in tankōbon form cite Jump SQ (ja) editions. Fragments of Silver Omnibus (総集編 銀の断章 Gin no Danshou) 1–3, Shueisha, are only available in Japanese. Anime scenes (episodes) cited are FUNimation (en-us) editions, unless otherwise noted.