Scene 109

Yoma cocoon

Original magazine title

戦士たちの絆[1] Senshi-tachi no Kizuna

Issue, release date

December 2010, 4 November 2010

Tankōbon title

幻影を胸に IV[2] Gen'ei o Mune-ni IV, volume 20

US tankōbon title

Phantoms in the Heart, Part 4[3]

New character

Yoma cocoon

Quote

This is...Clare.[4]

Region

Locale

Next scene

Previous scene
No cold open.
On Dae's return, he asks what befell Organization Headquarters, as cleanup crews clear the area. His superior refuses to answer. He informs Dae that Raki has arrived.[9]
Later, Dae is shown why Raki is immune to the rods. The answer surprises even Dae.[10]
Helen leads Galatea to the remains of the Destroyer, a Yoma cocoon.[11]
Galatea detect the presence of Clare and Priscilla inside. She also detects something else that is binding Priscilla. Galatea realizes that freeing Clare means freeing Priscilla.[12]
Deneve sword-fights Tabitha. The other warriors break-up it. Deneve was stopping Tabitha from trying to rescue Miria by herself.[13]
After much debate among themselves, the Ghosts decide to rescue Miria, together.[14]
Dietrich asks if the Organization is really responsible for the invasion of Rabona. Deneve replies that Dietrich should find out for herself. Dietrich remembers her childhood where a similar attack occured to her hometown. She must decide now whether to betray the Organization, or join the Ghosts and rescue Miria.[15]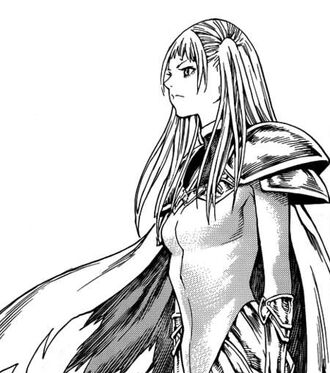 Moment of decision

In the end, Dietrich joins Deneve, Cynthia, Helen, Tabitha and Yuma. Galatea watches them as they head out to Organization Headquarters.[16]
Tankōbon Claymore volumes cited are VIZ Media (en-us) editions, unless otherwise noted. Manga scenes (chapters) not yet translated cite Shueisha tankōbon (ja) editions. Manga scenes not yet published in tankōbon form cite Jump SQ (ja) editions. Fragments of Silver Omnibus (総集編 銀の断章 Gin no Danshou) 1–3, Shueisha, are only available in Japanese. Anime scenes (episodes) cited are FUNimation (en-us) editions, unless otherwise noted.
Community content is available under
CC-BY-SA
unless otherwise noted.