Scene 107

Return of "Hilda"

Original magazine title

幻影と幻覚[1] Gen'ei to Genkaku

Issue, release date

October 2010, 4 September 2010

Tankōbon title

幻影を胸に II[2] Gen'ei o Mune ni II, volume 19

US tankōbon title

Phantoms in the Heart, Part 2[3]

New character

Rafutera

Quote

I mustn't kill them.[4]

Region

Locale

Organization Headquarters[6]

Next scene

Previous scene
Miria battle the Twin Trainees, as they take turns awakening.[7]
The twins together strike Miria. But they struck a mirage, their swords crossed.[8]
While the other Man in Black are impressed by Miria's performance, Rubel suspects Miria's Yoma energy is running out.[9]
Miria wonders if she should kill the twins. Accidentally, she cuts off one of their arms.[10]
A Man in Black notes how one twin's fighting ability lessens when the other twin is injured.[11]
Miria makes her fateful decision—she cannot kill a sister warrior.[12]
Warrior No. 10, Rafutera, watches the battle. Previously, Miria's aura was suppressed. But now that Miria is releasing Yoma energy, Rafutera can use Yoma power harmonization, aligning her Yoma power with Miria's.[13]
Miria's vision turns hazy. Rafutera probes the depths of Miria's mind and amplifies Miria's deepest feelings. Miria hallucinates the twin as being Hilda. Miria refuses to fight back, despite the sword blows. Finally the twin impales her sword into Miria's abdomen.[14]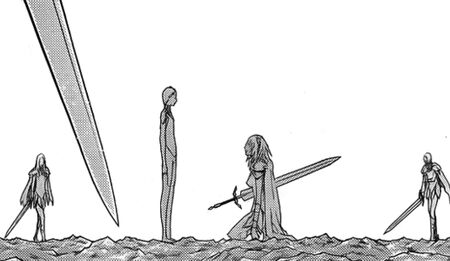 Miria surrounded

The other warriors revive and surround Miria, now on her knees. They cut her down.[15]
Clare on front panel of cover.



Jump SQ October 2010

Tankōbon Claymore volumes cited are VIZ Media (en-us) editions, unless otherwise noted. Manga scenes (chapters) not yet translated cite Shueisha tankōbon (ja) editions. Manga scenes not yet published in tankōbon form cite Jump SQ (ja) editions. Fragments of Silver Omnibus (総集編 銀の断章 Gin no Danshou) 1–3, Shueisha, are only available in Japanese. Anime scenes (episodes) cited are FUNimation (en-us) editions, unless otherwise noted.
Community content is available under
CC-BY-SA
unless otherwise noted.