Scene 106

Miria combating awakened trainee

Original magazine title

幻影の奇襲[1] Gen'ei no Kishū

Issue, release date

September 2010, 4 August 2010

Tankōbon title

幻影を胸に I[2] Gen'ei o Mune ni I, volume 19

US tankōbon title

Phantoms in the Heart, Part 1[3]

New character

N/A

Quote

Miria probably...hoped for this situation from the start.[4]

Region

Locale

Next scene

Previous scene
Flashback a few days before the event in Lautrec. In Rabona, Miria cuts down Tabitha.[9]
Miria then warns off Galatea. Miria puts on her Claymore warrior uniform, then leaves the Holy City.[10]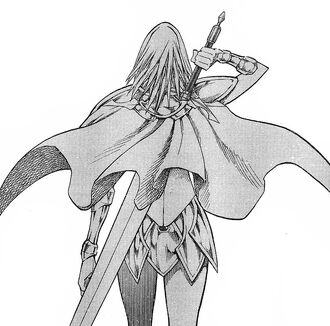 Back in uniform

Tabitha recovers consciousness. She finds herself in bed. Galatea says Miria wounded Tabitha just enough to paralyze her.[11]
Galatea explains: since Alicia and Beth went to Lautrec, they cannot protect Organization Headquarters.[12]
Miria saw her chance to destroy the Organization. But since Miria may kill humans, she did not want Tabitha to come along.[13]
Miria look upon the unconscious warriors she wounded. Audrey and Rachel appear on the scene, ready to attack. But Miria cuts them down.[14]
Rubel watches, suspecting Miria is about to kill all Men in Black.[15]
Identical Twin Trainees (tweens) challenge Miria. Like Alicia and Beth, they use a form of Controlled Awakening. But unlike the earlier twins, the current ones can switch roles back and forth. Miria holds her own in battle, trying not to harm the girls.[16]
Rubel watches amused, thinking of the Organization's "Trump Card." He further notes that Rafutera is trained only to deal with a single warrior at a time, not groups simultaneously. If Miria brought along comrades, her plan might have succeeded.[17]
Tankōbon Claymore volumes cited are VIZ Media (en-us) editions, unless otherwise noted. Manga scenes (chapters) not yet translated cite Shueisha tankōbon (ja) editions. Manga scenes not yet published in tankōbon form cite Jump SQ (ja) editions. Fragments of Silver Omnibus (総集編 銀の断章 Gin no Danshou) 1–3, Shueisha, are only available in Japanese. Anime scenes (episodes) cited are FUNimation (en-us) editions, unless otherwise noted.
Community content is available under
CC-BY-SA
unless otherwise noted.