Scene 105

Priscilla awakened

Original magazine title

復讐の行方[1] Fukushū no Yukue

Issue, release date

August 2010, 3 July 2010

Tankōbon title

ロートレクの灰燼 X[2] Rōtoreku no Kaijin X, volume 19

US tankōbon title

Ashes of Lautrec, Part 10[3]

New character

N/A

Quote

I have to stop its rampage. That's the last mission left to me.[4]

Region

Locale

Forest

Next scene

Previous scene
No cold open. Color illustration of the awakened Priscilla in the original Jump SQ publication.[6]
Helplessly, Deneve and Helen watch the tentacles from the Yoma energy mass hold up Clare's upper torso. Priscilla lands on a hillock behind them.[7]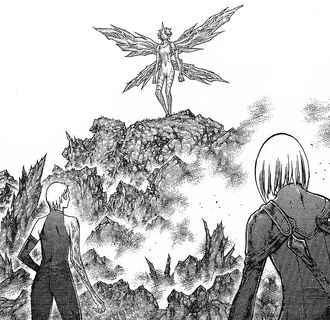 Uninvited guest

Priscilla demands that Deneve and Helen reveal Clare's whereabouts. Helen replies with a limb stretching attack. But Priscilla's tentacles pin Helen's arm to the ground. Deneve then attacks from the rear.[8]
Priscilla's tentacles pierce and capture Deneve. Priscilla then interrogates Deneve, who says the mass swallowed Clare. Suddenly, the mass shoots out tentacles that pierces Priscilla, distracting her from Deneve. Helen cuts free Deneve and they flee.[9]
Yuma supports an injured Cynthia. From the cliff's edge, they watch the mass swallow the forest below.[10]
Dietrich decides to help Helen and Deneve. Yuma protests, but Dietrich jumps down.[11]
Helen flees carrying Deneve, who notices the mass is retracting.[12]
The mass tries to swallow Priscilla, who bursts it apart. But it envelops Priscilla again and again.[13]
Helen stops in the dead forest, Deneve dying. But Yuma appears and restores Deneve's Yoma energy, as Helen and Cynthia watch. Dietrich returns and reports that the mass is inactive.[14]
Yuma asks about Clare whereabouts. Deneve recounts Clare's words before being swallowed by the mass.[15]
Tankōbon Claymore volumes cited are VIZ Media (en-us) editions, unless otherwise noted. Manga scenes (chapters) not yet translated cite Shueisha tankōbon (ja) editions. Manga scenes not yet published in tankōbon form cite Jump SQ (ja) editions. Fragments of Silver Omnibus (総集編 銀の断章 Gin no Danshou) 1–3, Shueisha, are only available in Japanese. Anime scenes (episodes) cited are FUNimation (en-us) editions, unless otherwise noted.
Community content is available under
CC-BY-SA
unless otherwise noted.