Runoa goddess

Runoa goddess

VIZ Media name

Goddess[1] (en-us)

Variant

Göttin[2] (Goddess de), diosa[3] (goddess es-es), déesse[4] (goddess fr), dea[5] (goddess it), богиню[6] (goddess ru)

Original name

女神[7] megami (goddess)

Class

Deity

Description

Female deity

Status

Extant

Quote

It's a statue of a goddess by Auguste. I've been told this is from the Runoa period.[8]

Region

Lautrec, Toulouse

Locale

Town of Hamel, Holy City of Rabona

First mention

Scene 5, Anime Scene 3

First appearance
Etymology
Edit
女神 megami translates as "goddess." Father Vincent also uses the gender-free 神 (kami

).[9] Similar to the Sanskrit Deva.
Appearance
Edit
Only female gods have appeared in Claymore. They usually have wings. The Runoa goddess is an exception.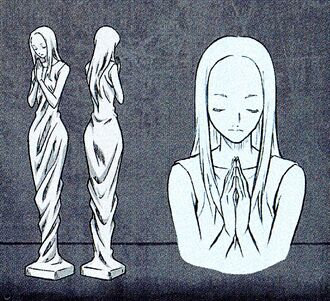 Runoa goddess details

The Runoa goddess is a duplicate of Clare's best friend, Elena, though the meaning of this is still a matter of conjecture.
Runoa goddessEdit
Clare, impersonating an antiques dealer, has Raki display a statue of an unwinged, Runoa goddess.
Clare says the statue is from the "Runoa period" (ルノア時代) by Auguste (オーギュスト), possibly alluding to Auguste Rodin (1840–1917), French sculptor. When the innkeeper asks for the price, Clare replies "ten million bera.[10]
Fight in Rabona CathedralEdit
Mysteriously, Raki carries the statue wherever he and Clare go in town. He waits in the baptism room with the statue as Clare examines the cathedral staff upstairs.
During the fight with the
Voracious Eater
, Raki asks Galk to throw the statue to Clare. When the Yoma tries to cut through the statue, a
Claymore sword
is revealed.
[11]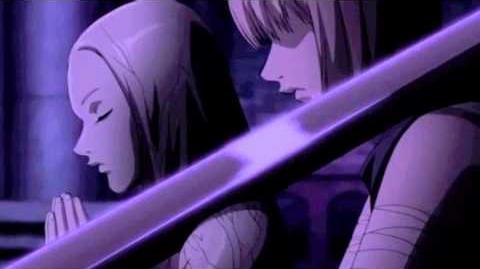 Clare's secret
References
Edit
Tankōbon Claymore volumes cited are VIZ Media (en-us) editions, unless otherwise noted. Manga scenes (chapters) not yet translated cite Shueisha tankōbon (ja) editions. Manga scenes not yet published in tankōbon form cite Jump SQ (ja) editions. Fragments of Silver Omnibus (総集編 銀の断章 Gin no Danshou) 1–3, Shueisha, are only available in Japanese. Anime scenes (episodes) cited are FUNimation (en-us) editions, unless otherwise noted.
Community content is available under
CC-BY-SA
unless otherwise noted.