Raquel II

"Raquel" from anime

Variant

Raquel[1] (en-us anime )

Original name

ラケル[2] Rakeru (ja anime)

Rank No.

Unknown rank of the Current Generation

Status

Dead

Ties

Organization

Class

Unknown type: unknown ability

Technique

Unknown

Quote

Something's strange...they want to take us alive...they're plotting something...[3]

Anime voice

Kim Matula (en-us),
Sachi Matsumoto (ja)

First appearance
This character is named "Raquel" only in the anime voice actor credits of the Japan and US dubs. Nameless in all other anime dubs and all manga editions.
ラケル transliterates from "Raquel," a Spanish and Portuguese form of Rachel.
"Raquel II" wears a hime hairstyle. This Raquel is often confused with the original manga Raquel, who wears a very short, clippered nape hairstyle.
A moth-shaped buckle holds 2-layer spaulders on the shoulders. The anime buckle is a simple band.[4] Also wears vambraces covering the wrists and mid-calf chausses.[5]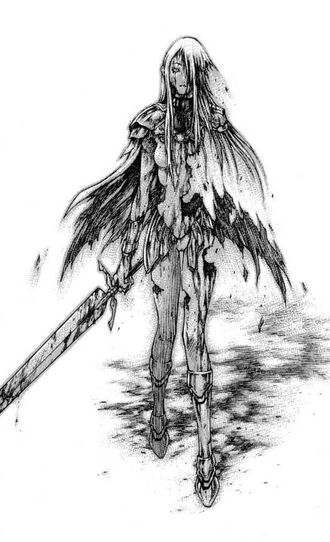 Manga version

Unknown type. Having no Organization datasheet in the "Yoma War Record," her ability and baselines are unknown. Unable to regenerate her wounds, she could be an offensive type.
Early life unknown.
In the manga, Raquel II is first seen with the Zakol hunt, which marches past Clare's inn in Hamel.[6] The anime voice actor credits lists Raquel II as the original Raquel, who dies in Witch's Maw.[7]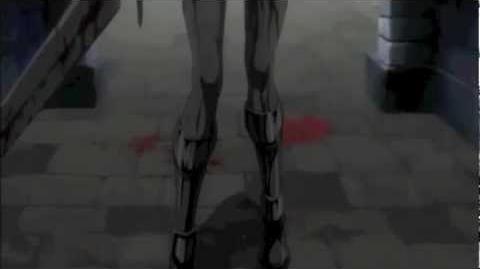 Anime Raquel in Hamel

Raquel II, who escapes Witch's Maw, reaches Hamel and speaks with Clare before dying. She asks Clare to save her comrades.[8]
After Clare reverses Jean's awakening, Jean glances at the original Raquel's body and swears to avenge her and Katea's deaths.[9] Jean has yet to be told about the warrior who escaped to Hamel.[10]
Tankōbon Claymore volumes cited are VIZ Media (en-us) editions, unless otherwise noted. Manga scenes (chapters) not yet translated cite Shueisha tankōbon (ja) editions. Manga scenes not yet published in tankōbon form cite Jump SQ (ja) editions. Fragments of Silver Omnibus (総集編 銀の断章 Gin no Danshou) 1–3, Shueisha, are only available in Japanese. Anime scenes (episodes) cited are FUNimation (en-us) editions, unless otherwise noted.
Community content is available under
CC-BY-SA
unless otherwise noted.