Pieta

Clare before statue

VIZ Media name

Pieta[1] (en-us)

Variant

Original name

ピエタ[6] Pieta

Region

Current status

Abandoned

Geographic entity

Village

Ties

Unknown

Place name allusion

First mention

Scene 50, Anime Scene 18

First appearance
ピエタ transliterates from "Pieta," Italian for "pity." Name alludes to Pieta, the sculpture by Renaissance artist, Michelangelo (1475–1564).
Alpine-like village cradled in a mountainous valley in the northern region of Alfons. This valley is the south exit point of the region. The village is near the northern border of Toulouse and the Paburo Mountains. See world map.
In the anime, the initial meeting of the battle group takes place before the local church in the plaza. The building resembles an ancient Greek temple converted into a medieval Orthodox church, examples of which are still extant in contemporary Greece.
The church has a statue on the portico. The statue is patterned after the Michelangelo's sculpture, with a woman holding the body of a man.[7] Niches on either side of the Pieta sculpture display statues of knight-like warriors bearing heater shields.
Anime Scene 26 shows the interior of the church, with a stained-glass window of the twin goddesses, Teresa and Clare. Here Galatea tells Rubel that Clare's aura has "disappeared."
Other features of the village include the "Eastern Inn,"[8] where the battle group is quartered. The storage shed in the rear is where Deneve discovers Undine's true form.
The anime shows the wounded warriors in the lobby. In the manga, the last meeting of the battle group takes place in the banquet hall.[9]
In the anime, Jean calls it "Town of the beginning, Pieta."[10]
After 7-year timeskip, Clarice visits the ruins and says "...town of the beginning of the northern lands..."[11]
Various villages, such as Dabi, are sited farther north.[12]
Winter battleground of Battle of the North, between the Organization's Battle Group of 24 Claymores warriors,[13] commanded by Miria,[14] versus the Northern Army of 27 Awakened Beings, commanded by Isley.[15]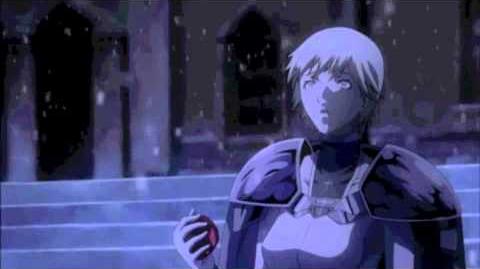 Helen gives Pamela an apple

After the 7-year timeskip, Clarice finds 17 Claymore swords used as grave-marks from the Battle of the North.[16]
Tankōbon Claymore volumes cited are VIZ Media (en-us) editions, unless otherwise noted. Manga scenes (chapters) not yet translated cite Shueisha tankōbon (ja) editions. Manga scenes not yet published in tankōbon form cite Jump SQ (ja) editions. Fragments of Silver Omnibus (総集編 銀の断章 Gin no Danshou) 1–3, Shueisha, are only available in Japanese. Anime scenes (episodes) cited are FUNimation (en-us) editions, unless otherwise noted.
Community content is available under
CC-BY-SA
unless otherwise noted.