Pamela

Pamela in anime

VIZ Media name

Pamela[1] (en-us )

Variant

Pamela[2][3][4] (de, es-es , it ), Paméla[5] (fr ), 파멜라[6] Pamella (ko), Памела[7] Pamela (ru), 巴美拉[8] Baměilā (zh-hk), 帕美拉[9] Pàměilā (zh-tw)

Original name

パメラ[10] Pamera

Rank No.

35 of the Current Generation[11]

Current status

Killed in Battle of the North

Ties

Organization

Class

Unknown type: unknown ability

Technique

Unknown

Quote

Sorry. I think I'm letting my nerves get the best of me.[12]

Anime voice

Cherami Leigh (en-us),
Yui Kano (ja),
Lovely Mejala (tl)

First appearance
Etymology
Edit
パメラ transliterates from "Pamela," invented by 16th century poet Philip Sidney, possibly from Greek παν-μέλι pan melli (all honey).
Appearance
Edit
Bobbed hair with disheveled locks.[13]
A shark-tooth-shaped buckle hold 2-layer spaulders on the shoulders.[14]
Personality
Edit
One of several warriors that argued during Miria's first meeting. Argues with Carla.[15] Anime version shows a sensitive personality, out of her depth fighting awakened beings, but who is later comforted by Helen before the second engagement.
Datasheet
Edit
Unknown type. Having no Organization datasheet in the "Yoma War Record," her ability and baselines are unknown.
Pamela, a lower-ranking double-digit (No. 35), is first warrior killed in anime version of Battle of the North.[16]
Early life unknown.
Battle of the NorthEdit
Member of the battle group in Pieta during the Battle of the North. Assigned to Team Veronica: Cynthia (No. 14), Helen (No. 22) and Matilda (No. 41).[17]
Engagment IEdit
During the first engagement with the three scouts, Team Jean is decimated by the Insectile awakened, all team members but Jean lying wounded. Team Jean is rescued by Team Veronica. Veronica and Cynthia act as decoys.[18] Helen immobilizes Insectile's legs, enabling Jean to use Drill Sword. Pamela does not appear.
Engagement IIEdit
Manga and anime diverge here.
Pamela appears in Yuma's flashback. In the banquet hall of the Eastern Inn, Miria holds a meeting with the battle group. She tells everyone to take a half dose of suppressant. If rendered unconscious during combat, a warrior will radiate no aura, making her appear dead to both the Northern Army and Organization.[19]
Pamela's sword appears in graveyard.[20]
In the church plaza, Pamela cries while sitting alone on stairs before the Pieta statue. Helen throws her an apple and tries to reassure Pamela.
[21]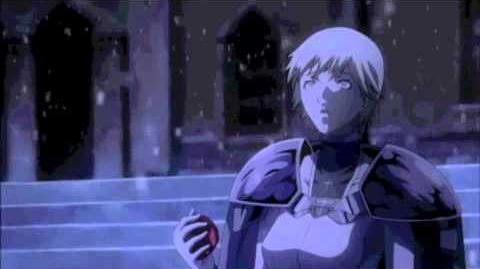 Helen comforts Pamela
During the invasion of the Northern Army, Team Veronica waits inside a building. A
Dauf
-like awakened bursts in and grabs Pamela, squeezing her to death.
[22]
References
Edit
Tankōbon Claymore volumes cited are VIZ Media (en-us) editions, unless otherwise noted. Manga scenes (chapters) not yet translated cite Shueisha tankōbon (ja) editions. Manga scenes not yet published in tankōbon form cite Jump SQ (ja) editions. Fragments of Silver Omnibus (総集編 銀の断章 Gin no Danshou) 1–3, Shueisha, are only available in Japanese. Anime scenes (episodes) cited are FUNimation (en-us) editions, unless otherwise noted.
Community content is available under
CC-BY-SA
unless otherwise noted.