Norma

Norma

VIZ Media name

N/A

Variant

N/A

Original name

ノーマ[1] Nōma (Norma)

Rank No.

22 of the Next Generation[2]

Current status

Alive

Ties

Organization, Ghosts

Class

Unknown type: unknown ability

Technique

Unknown

Quote

An Awakened One?[3]

First appearance
Etymology
Edit
ノーマ is a standard transliteration of "Norma," which either derives from the heroine of Felice Romani's 1831 opera Norma, or a feminine form of "Norman," from the Old French Normanz, derived ultimately from the ancient German phrase for "north man."
The birth name of US actress Marilyn Monroe.
Appearance
Edit
Hairstyle: razor-cut shag[4]—similar to but shorter than Miria's. Height unknown—shorter than Lena in Lacroix.[5]
Norma wears a 3-toothed band buckle, which holds 2-layer spaulders on the shoulders. Vambraces cover the forearms over the elbow.[6]
Personality
Edit
Unknown. At first Norma appears to be blase or bored in Lacroix. Near panic when both the Awakened Being and the Ghosts makes themselves known.
Datasheet
Edit
Unknown type. Having no Organization datasheet in the "Yoma War Record," her ability and baselines are unknown.
In Lacroix village, Cynthia, Yuma and Clare look for an Awakened Being they sensed on the outskirts of town. They run into the Lacroix mission, a search and rescue team, composed of three warriors.[7] Later, two Men in Black appear.[8]
Lena, the team captain of the mission, reports that nothing of interest is in the village. However, she is unable to detect a nearby Awakened Being, due to taking suppressant.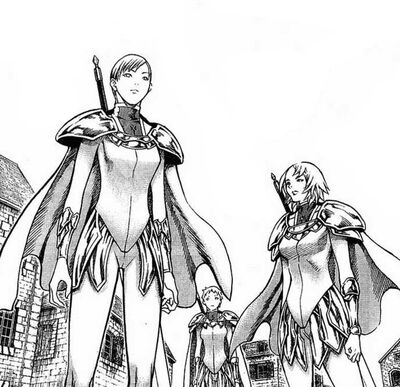 Norma with Lena in Lacroix

But when a female bystander awakens, Cynthia and Clare preemptively attack,[9] while Yuma knocks unconscious Norma and an unnamed warrior, then the two Men in Black and Lena.[10]
The Awakened is killed. But Rubel witnesses everything.[11]
Holy CityEdit
Norma is part of the battle group from Organization Headquarters that join the Ghosts in the Holy City of Rabona. On the ramparts of the city, Galatea senses Europa's approaching aura, whose magnitude is of a greater order than the two previous Awakeneds that landed in town.[12]
When Europa crashes through the city walls like a wreaking ball, Audrey orders single-digits and double-digit volunteers to advance onto Anastasia's "wings." Among the volunteers is Norma.[13]
References
Edit
Tankōbon Claymore volumes cited are VIZ Media (en-us) editions, unless otherwise noted. Manga scenes (chapters) not yet translated cite Shueisha tankōbon (ja) editions. Manga scenes not yet published in tankōbon form cite Jump SQ (ja) editions. Fragments of Silver Omnibus (総集編 銀の断章 Gin no Danshou) 1–3, Shueisha, are only available in Japanese. Anime scenes (episodes) cited are FUNimation (en-us) editions, unless otherwise noted.
Community content is available under
CC-BY-SA
unless otherwise noted.