No. 35

No. 35

VIZ Media name

N/A

Variant

N/A

Original name

N/A

Rank No.

35 of unknown era[1]

Current status

Killed by awakened being

Ties

Organization

Class

Unknown

Technique

Unknown

Quote

...when I wiped my face after the fight, it looked like the cat she had at home.[2]

First appearance
Etymology
Edit
Unnamed by characters in the manga. Referred only by her rank number.
Appearance
Edit
Hairstyle: pigtails. No. 35 strongly resembles Cynthia. Height unknown—shorter than Cassandra.[3]
A rhombus buckle holds 2-layer spaulders on the shoulders.[4]
Personality
Edit
Prone to emotional breakdown under stress. She appears cheerful under normal circumstances. Greatly attached to her friend Cassandra.[5]
Datasheet
Edit
Unknown type. Having no Organization datasheet in the "Yoma War Record," her ability and baselines are unknown.
Coup de graceEdit
During the Claymore Rebellion, when Cassandra tries to deliver the coup de grace to Audrey, Cassandra's sword aim is diverted. Unknown to her, Rafutera is altering her movements.[6]
Possibly due to Rafutera's probing, Cassandra remembers her past, causing her old wounds to reopen.[7]
New friendEdit
In a flashback, Cassandra remembers saving the life of No. 35 during a failed awakened hunt.[8] Later at Organization Headquarters, No. 35 approaches the usually feared Cassandra and tells her how Cassandra's rubbing her face reminds No. 35 of a cat she once owned. Through this shared joke, Cassandra and No. 35 becomes friends.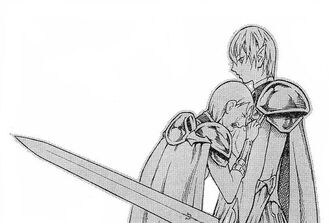 No. 35 and Cassandra

Afterward, No. 35 is assigned to a hunt lead by Roxanne. But Roxanne deliberately fails the mission, allowing the target to kill No. 35.[9]
Cassandra find the awakened, who tells Cassandra everything before Cassandra beheads it.[10]
Cassandra tries to avenge No. 35, but walks into Roxanne's trap at headquarters. Cassandra tries to attack Roxanne, but cannot reach her through the counterattacking warriors.[11]
Using Uranus' old sword technique, Roxanne finally kills Cassandra, whose last memory is to rejoin her friend in the afterlife.[12]
References
Edit
Tankōbon Claymore volumes cited are VIZ Media (en-us) editions, unless otherwise noted. Manga scenes (chapters) not yet translated cite Shueisha tankōbon (ja) editions. Manga scenes not yet published in tankōbon form cite Jump SQ (ja) editions. Fragments of Silver Omnibus (総集編 銀の断章 Gin no Danshou) 1–3, Shueisha, are only available in Japanese. Anime scenes (episodes) cited are FUNimation (en-us) editions, unless otherwise noted.
Community content is available under
CC-BY-SA
unless otherwise noted.