Mount Shire

Cemetery on Mount Shire

VIZ Media name

Mount Shire[1] (en-us)

Variant

Shire-Berges[2] (de), Monte Shiire[3] (es-es), Montagne de Schiele[4] (fr), Monte Shire[5] (it), Через Горы[6] Cherez Gory (ru)

Original name

シーレ[7] Shīre (pronounced she-re)

Region

Lautrec[8]

Status

Abandoned

Geographic entity

Mountain

Geographic features

Temple ruins, cemetery[9]

Ties

Unknown

Place name allusion

"Mount Shire" and the village of "Egon" may allude to Austrian Expressionist painter, Egon Schiele (1890–1918)

First mention

Scene 4, Anime Scene 2

First appearance
VIZ Media uses "Shire," a transliteration of "Schiele," which derives from medieval German "schel" (wild or clamorous). Pronounced she-Lah or She-lee in German. Similar to Irish-Gaelic first and last names
FUNimation anime pronounces name as she-Un.[10] Only the French edition correctly translates シーレ as "Schiele."[11] Pronounced Ssh-ell in French.
Clare and Raki leave "Egon" and travel to "Shire," alluding to Egon Schiele, whose Expressionist style may have influenced Claymore.
Mountain in northwestern Lautrec. See world map. Mountain is called "Shire" by Clare in Scene 4, VIZ Media translation.[12]
Where Clare rendezvous with her best friend, Elena, who sent Clare a black card.[13]
Despite Raki's protest, Clare euthanizes Elena.
Anime depicts town of Shire, where Clare attempts to leave Raki at inn, before she travels to mountain. These scenes do not appear in the manga.[14]
This episode begins with the ending of manga Scene 2—the Yoma suppression in Strah—and segues into Scene 4
In the manga, Clare alone goes to Strah before rescuing Raki in the desert[15]
In the manga, Shire village never appears, nor does Raki ever meet Rubel
Clare reminiscences about Elena—神秘と深淵 Shinpi to Shin'en (Mystery and Abyss) 1:40
Clare walking up Mount Shire—大きな剣 Ooki na Ken (Great Sword) 1:44
Clare meeting Elena—微笑のテレサ Bishou no Teresa (Teresa of the Faint Smile) 1:53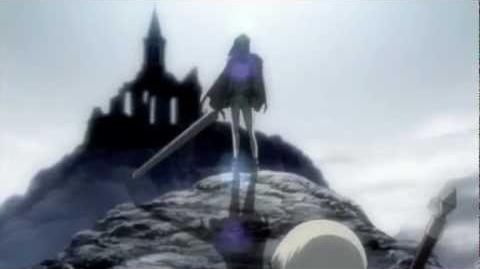 Clare meeting Elena on Mount Shire


Tankōbon Claymore volumes cited are VIZ Media (en-us) editions, unless otherwise noted. Manga scenes (chapters) not yet translated cite Shueisha tankōbon (ja) editions. Manga scenes not yet published in tankōbon form cite Jump SQ (ja) editions. Fragments of Silver Omnibus (総集編 銀の断章 Gin no Danshou) 1–3, Shueisha, are only available in Japanese. Anime scenes (episodes) cited are FUNimation (en-us) editions, unless otherwise noted.
Community content is available under
CC-BY-SA
unless otherwise noted.