Gonahl

End of the continent

VIZ Media name

Gonahl[1] (en-us)

Variant

Gonahl[2][3][4] (de, en-us anime, it anime), Gonaaru[5] (es-es), Gonard[6] (fr), Gonar[7] (it)

Original name

ゴナール[8] Gonāru

Region

Lautrec[9]

Status

Abandoned

Geographic entity

Geographic features

By seacoast, castle

Ties

Former Single-digit

Place name allusion

Jean-Honoré Fragonard

First mention

Scene 31, Anime Scene 12

First appearance
ゴナール Gonāru is a fore-clipped version of フラゴナール Furagonāru, transliterated from Jean-Honoré Fragonard (1732–1806), French Rococo painter. "Gonahl" is used by both VIZ Media and FUNimation.
Coastal village or city in northeastern Lautrec. The world map refers to the town as the "Ruins of Gonāru."
The ruins in both the manga and anime resemble Fragonard's drawings of Roman ruins. Ruins appear in the work of Fragonard and his contemporaries during the 18th century.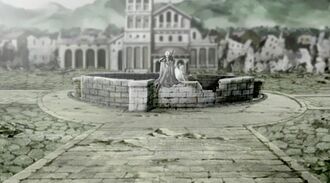 Ophelia waiting in ruins of Gonahl

Site of the Gonahl hunt, lead by No. 7, Ophelia.[12]
Town abandoned due to the attack by the Former Single-digit.[13] Clare tells Raki "It's like we walked to the end of the continent."[14]
Clare meets the hunt captain, Ophelia, who patiently waits in the town center. Ophelia suspects that Clare is half-awakened. She seizes Clare and pokes her fingers into Clare's stigma. Ophelia tastes the blood and decides to kill Clare.[15]<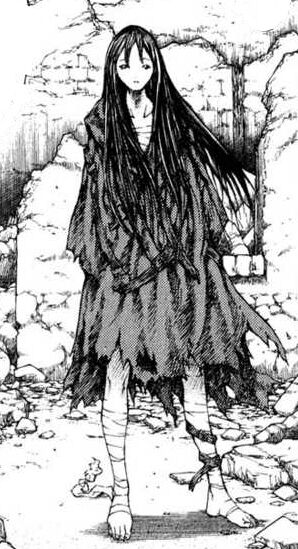 Former Single-digit

Raki's attack distracts Ophelia and frees Clare. Ophelia does not intend on leaving any witnesses to her misbehavior.[16]
Ophelia cuts off Clare's legs. She challenges Clare to reattach them as she fights Raki in a sword match. With each passing minute, Ophelia increase her skill level, till Raki is killed.[17]
When the Former Single-digit Awakened shows up, a 3-way combat takes place. Ophelia distracted with fightig the Awakened, Clare is able to escape with Raki. After Ophelia kills the Awakened, she pursues Clare. Clare and Raki are forced to split up.[18]



Former Single-digit

In the anime, Rafaela finds the remains of the Single-digit.[19]
Tankōbon Claymore volumes cited are VIZ Media (en-us) editions, unless otherwise noted. Manga scenes (chapters) not yet translated cite Shueisha tankōbon (ja) editions. Manga scenes not yet published in tankōbon form cite Jump SQ (ja) editions. Fragments of Silver Omnibus (総集編 銀の断章 Gin no Danshou) 1–3, Shueisha, are only available in Japanese. Anime scenes (episodes) cited are FUNimation (en-us) editions, unless otherwise noted.
Community content is available under
CC-BY-SA
unless otherwise noted.