Full Yoma Energy Suppression

Rafaela in full suppression mode

VIZ Media name

N/A

Variant

N/A

Original name

完全妖気抑制[1] Kanzen Yōki Yokusei (Full Yoma Energy Suppression)

Class

Description

Pushing back Yoma Power to source till extinguished

Status

Unknown

User

Rafaela

Associated technique

Unknown

Quote

And with your power and Yoma aura concealed...you can move in the shadows of the Organization.[4]

First appearance
Etymology
[
]
Unoffficial translation. Unnamed by characters in the manga and anime. 完全妖気抑制 translates as "Full Yoma Energy Suppression." 完全 = Full, 妖気 = Yoma energy, 抑制 = suppression.
Rafaela's datasheet names her technique in Yoma War Record III.[5] The manga and anime describe only.
Description
[
]
Rafaela's ability of Yoma Energy Suppression enables her technique: approach Yoma-like targets without detection.[6]
Yoma power usage is 0–2%,[7] Yoma power control low-80%.[8] See Yoma power chart.
History
[
]
Exile

[

]
Rubel meets Rafaela in her apartment. Rafaela has suppressed her Yoma power—she refuses to regenerate lost eye as penance for losing her sister, Luciela, in the controlled awakening experiment.[9]
Rubel says that she has been decommissioned by the Organization. He further suggests she leave.[10]
Runaway

[

]
At a forest pond, Rafaela meets a young runaway trainee, Teresa. The technique is not yet perfected as Teresa can still detect Rafaela's aura.[11]
No. 5

[

]
After an indeterminate number of years, Rubel finds Rafaela living in a cave. By now, her Yoma power is extinguished, which makes her ideal for covert operations. Rubel offers the position of No. 5. Rafaela accepts in exchange for Luciela's whereabouts.[12]
Enforcer

[

]
Several years later, in anime, Rafaela finds remains of Former Single-digit in Gonahl.[13]
Clare leaves Ilena's hidden valley. Ilena stands outside, gazing into mountains. Rafaela approaches Ilena undetected. Rafaela tells Ilena that the Organization has ordered her executed for desertion.[14]
Meanwhile, Clare travels though forest. Suddenly, she senses something amiss in Ilena's arm. But a loud noise interrupts her thoughts.[15]
3-month timeskip

[

]
Despite Clare's rebuffs, Jean insists on following her though forest. Suddenly, Rafaela confronts them. She asks which is Clare.[16]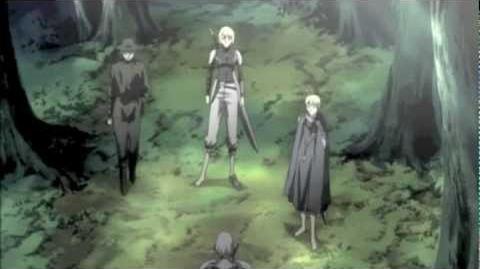 Jean and Clare confront Rafaela

Both warriors are confused as they failed to sense Rafaela. Rubel appears behind Rafaela.
He reveals that Rafaela excels in Yoma power concealment. And, that she can take on both Clare and Jean.[17]
References
[
]
Tankōbon Claymore volumes cited are VIZ Media (en-us) editions, unless otherwise noted. Manga scenes (chapters) not yet translated cite Shueisha tankōbon (ja) editions. Manga scenes not yet published in tankōbon form cite Jump SQ (ja) editions. Fragments of Silver Omnibus (総集編 銀の断章 Gin no Danshou) 1–3, Shueisha, are only available in Japanese. Anime scenes (episodes) cited are FUNimation (en-us) editions, unless otherwise noted.