Extra Scene 4

Clare from Memorabilia

Original magazine title

錆なき覚悟[1] Sabinaki Kakugo (Untarnished Resolution)

Issue, release date

22 October 2007, TBA

Tankōbon title

Same as original, Volume 14[2]

US tankōbon title

Untarnished Resolve[3]

New character

Clare's rival, Clare's Instructor

Quote

Don't be so eager to die. No matter how shameful it is, you have to keep struggling to survive to the very end.[4]

Region

Sutafu[5]

Locale

Organization Headquarters,[6] deserted village

Next scene

Previous scene
No prologue. Color plate of Clare in the original Weekly Shōnen Jump publication.[7]
On a desolate plateau, a young girl picks up the head of Teresa. She hugs Teresa's head.[8]
The narrative flashes forward. A now teen-aged Clare is attending class at the warrior school, at Organization Headquarters.[9]
Her sister trainees wonder aloud about rumors that Clare has Teresa's flesh. To test Clare, a bigger trainee starts a sparring match with Clare using Claymore swords. Clare puts up a fight, but is knocked down.[10]
But Clare gets up and the fight is about to restart, but Rubel breaks it up.[11]
On site in a ruin village, Clare's Instructor announces the test to 10 trainees, among which are Clare and the girl she fought earlier. The group is divided into two teams. They are to fight under realistic conditions.[12]
Clare wanders away from her team and runs into her old rival. While the two fight, Clare discovers all the other trainees are dead.[13]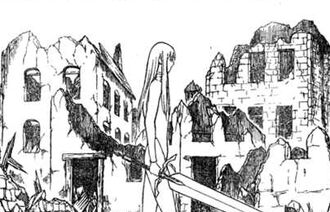 Clare in ruined village

The two survivors are attacked by a Yoma. Clare's rival is wounded by the Yoma.[14]
Despite the girl's protests, Clare drags her into a building.[15]
The Yoma searches for the two trainees. He detects what he thinks is Clare's aura, then spots her long hair hanging at a window's edge. He strikes through the building with extensible claws.[16]
But Clare's hair is attached to a beam, with the wounded trainee's aura acting as a decoy.[17]
With his claws caught in the wall, Clare appears behind him and cuts his skull in two.[18]
The instructor and Rubel watch from afar, as Clare helps her former enemy leave the village.[19]
Clare's rival resembles Elena in the anime, who also appears with bobbed hair in the school sequence[20]
Due to the similar hairstyle, the trainee Elena is sometimes mistaken for Clare's rival[21]
In the school anime sequence, Clare's hair wears a pageboy while still attending school

Weekly Shōnen Jump 22 October 2007

Tankōbon Claymore volumes cited are VIZ Media (en-us) editions, unless otherwise noted. Manga scenes (chapters) not yet translated cite Shueisha tankōbon (ja) editions. Manga scenes not yet published in tankōbon form cite Jump SQ (ja) editions. Fragments of Silver Omnibus (総集編 銀の断章 Gin no Danshou) 1–3, Shueisha edition, are only available in Japanese. Anime scenes (episodes) cited are FUNimation (en-us) editions.
Community content is available under
CC-BY-SA
unless otherwise noted.