Extra Scene 2

Miria from Memorabilia

Original magazine title

幻影と凶戦士[1] Gen'ei to Kyō Senshi (Phantom and Evil Warrior)

Issue, release date

27 August 2007, TBA

Tankōbon title

Same as original, Volume 13[2]

US tankōbon title

The Phantom and the Wicked Warrior[3]

New character

Hilda

Quote

Can you see me, Hilda?[4]

Region

Unknown

Locale

Forest, mountain

Next scene

Previous scene
No prologue. Color plate of Miria in the original Weekly Shōnen Jump publication.[5]
A rainy night sometime after the Ghosts leave Alfons and are traveling south to Rabona.
Helen comes across a lost Claymore sword. Miria recognizes the owner's symbol.[6]
Daytime. The captain of Hilda's hunt, Hilda herself, compliments Miria after her first awakened hunt. The two friends vow to "team up together again as single-digit warriors."[7]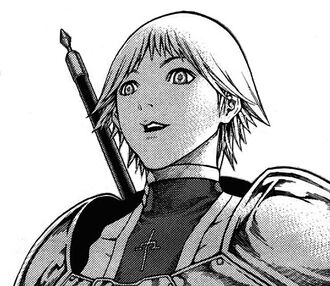 Hilda

Another day. From afar, a Man in Black, Ermita, observes Miria destroy a Yoma pack.[8]
He notes Miria's "Phantom" technique. Also watching is warrior No. 4, Ophelia. Though part of the hunt, she refuses to participate as no awakened being is present.[9]
Miria is now part of a new hunt. They are led by Ophelia, who speaks of a warrior who gave Ophelia a black card. But instead of giving it to the unnamed recipient, Ophelia tore it up.[10]
On a mountain, the hunt engages the awakened—mummy-like with tape-shaped tentacles. The awakened acts strangely passive. Ophelia disables the awakened. Miria finally beheads it, while noting the awakened's suppressed Yoma Energy. Miria now realizes the awakened's identity.[11]
Hilda allowed Miria to kill her, echoing Hilda's earlier words "to team up together again..." In her grief, Miria awakens herself, with Ophelia waiting to kill her.[12]
Daytime in the present. Back on the same mountain, Miria plants Hilda's sword as a grave-mark. She speaks to Hilda's spirit, asking her to join Miria, the Ghosts and fallen of Pieta.[13]
Scene 30 has a slightly different version of the Hilda's hunt, in which Miria leads the hunt rather than Ophelia
The anime version follows the Scene 30 version of Hilda's hunt, in which Miria is the captain and Ophelia appears from nowhere as Miria awakens
During the Claymore Rebellion at Organization Headquarters, Miria reminiscences about "Ophelia's plan" to kill both her and Hilda[14]
The original art for the color plate is reproduced on p. 053 of Memorabilia
A small image of Clare appears on the front panel of the cover.



Weekly Shōnen Jump 27 August 2007

Tankōbon Claymore volumes cited are VIZ Media (en-us) editions, unless otherwise noted. Manga scenes (chapters) not yet translated cite Shueisha tankōbon (ja) editions. Manga scenes not yet published in tankōbon form cite Jump SQ (ja) editions. Fragments of Silver Omnibus (総集編 銀の断章 Gin no Danshou) 1–3, Shueisha edition, are only available in Japanese. Anime scenes (episodes) cited are FUNimation (en-us) editions.
Community content is available under
CC-BY-SA
unless otherwise noted.