Egon

Egon

VIZ Media name

Egon[1] (en-us)

Variant

Original name

エゴン[6] Egon (pronounced egg-on)

Region

Unknown region. Possibly Lautrec

Status

Inhabited

Geographic entity

Village

Ties

Unknown

Place name allusion

Egon Schiele

First mention

Scene 3, Anime Scene 1

First appearance
Etymology
Edit
エゴン transliterates from "Egon," from medieval Germanic element eg (edge or corner), meaning someone from a corner town of a crossroads. "Egon" and "Mount Shire" (Schiele) allude to Austrian Expressionist painter, Egon Schiele (1890–1918).
Description
Edit
Village in an unknown region. Possibly in the western region of Lautrec. Clare and Raki are last seen in the Lautrecian village of Doga. Anime depicts Egon as a walled village on a plateau adjacent to a mountain.
Yoma's trapEdit
After completing an assignment in Strah, Clare rescues Raki in a desert. She carries him to Egon village, where she deposits him unconscious at an inn.[7]
When Raki awakes in a strange bed, the innkeeper greets him with a tray of food. He tells Raki that a Claymore brought him here.
After bolting down the food, Raki races outside to find the Claymore. On the street, a stranger accosts Raki and tells him that a Claymore is looking for him.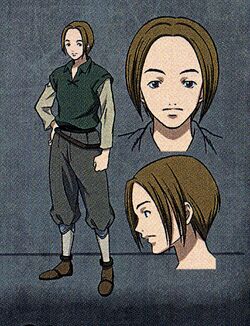 Stranger from Egon

Later, when Raki searches for Clare, he meets a "Claymore" in the wooded outskirts of the village. But Raki has just walked into a trap.
The "Claymore" awakens into a Yoma. Then takes Raki hostage. She demands that the real Claymore show herself. When she does, the Yoma orders her to throw away her sword.
[8]
[9]
Raki meets a "Claymore"
From the subtext of the Yoma's dialogue, Clare has been tracking the Yoma for some time.
[10]
Unknown if client order for
Yoma suppression
originated from Egon or elsewhere.
Clare's trapEdit
When Clare throws the sword over a cliff, the Yoma punches her arm through Clare's abdomen. But Clare jumps off the cliff, carrying the Yoma with her.[11]
At the cliff's bottom, Clare grabs her sword and cuts off the Yoma's arm, then skullcap.[12]
Additional details
Edit
In the anime, Clare finds Raki and brings him to Egon before going to Strah
References
Edit
Tankōbon Claymore volumes cited are VIZ Media (en-us) editions, unless otherwise noted. Manga scenes (chapters) not yet translated cite Shueisha tankōbon (ja) editions. Manga scenes not yet published in tankōbon form cite Jump SQ (ja) editions. Fragments of Silver Omnibus (総集編 銀の断章 Gin no Danshou) 1–3, Shueisha, are only available in Japanese. Anime scenes (episodes) cited are FUNimation (en-us) editions, unless otherwise noted.
Community content is available under
CC-BY-SA
unless otherwise noted.