Dreadlock awakened

Dreadlock attacks

VIZ Media name

N/A

Variant

N/A

Original name

N/A

Rank No.

Unknown rank of the Initial Male Era

Current status

Awakened, killed by Miria

Ties

Organization, Northern Army

Class

Unknown

Technique

Unknown

Quote

Since they've come this far...let's give them a welcome.[1]

Anime voice

Greg Ayres (en-us), Nobuyuki Hiyama (ja)

First appearance
Etymology
Edit
Unnamed by characters. Derives from dreadlock-like tentacles.
Appearance
Edit
30ish. Bearded, scar running across right eye. Disheveled, spiky hair.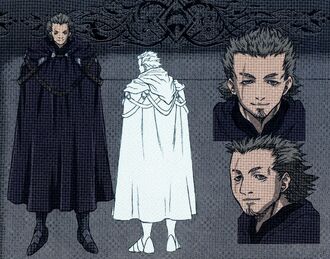 Dreadlock awakened profiles

Giant body protected by armor plates. Braided, dreadlock tentacles extrude from head, shoulders and arms. Tentacles and their usage is similar to the awakened form of Chronos.
Personality
Edit
Most brash and reckless of three scouts. Cannot follow orders.
Datasheet
Edit
Unknown type. Having no Organization datasheet in the "Yoma War Record," his ability and baselines are unknown. Appears to have low mental baseline.
TechniqueEdit
Dreadlock tentacles used to catapult body at great distances. Also, to grasp or pierce target. Similar to a reeled-speargun.
Early life unknown. One of three scouts for Northern Army.
Charging aheadEdit
Three men approach
Pieta
—scouts for the
Northern Army
. The blind-folded scout senses the presence of the Organization Battle Group—24 Claymore warriors. The bearded scout disobeys orders and attacks ahead of the army. He awakens into his humanoid, Dreadlock form.
[2]
Dreadlockawakened attacks
He shoots tentacles into the village. Tentacles anchored, he catapults himself hundreds of meters. He lands downtown and attacks the villagers. One of his tentacle captures a young girl. But Miria cuts the girl free.

Miria orders: her team attacks Dreadlock. Team Flora attacks the one on the roof. Team Jean the one on the tower. Teams Undine and Veronica stand by.[3]

The Battle Group confronts the three scouts, Dreadlock in front, the blindfolded scout atop a tower, the monk sitting on a roof.[4] Miria cuts away the tentacles, clearing a path for Queenie and Tabitha to attack. Yuma stands by with her sword.[5]
Power of a No. 6Edit
After the defeat of Armadillo and Insectile, Miria decapitates Dreadlock. The other teams rush to Miria's aid, only to find the fighting over.[6]
After the battle, Tabitha carries Yuma, who lost her arm.[7]
References
Edit
Tankōbon Claymore volumes cited are VIZ Media (en-us) editions, unless otherwise noted. Manga scenes (chapters) not yet translated cite Shueisha tankōbon (ja) editions. Manga scenes not yet published in tankōbon form cite Jump SQ (ja) editions. Fragments of Silver Omnibus (総集編 銀の断章 Gin no Danshou) 1–3, Shueisha, are only available in Japanese. Anime scenes (episodes) cited are FUNimation (en-us) editions, unless otherwise noted.
Community content is available under
CC-BY-SA
unless otherwise noted.