Doga

Clare searching Doga

VIZ Media name

Doga[1] (en-us)

Variant

Doga[2][3][4][5] (de, es-es, fr, it), Дога[6] Doga (ru), 窦加[7] Dòujiā (zh-hk)

Original name

ドガ[8] Doga

Region

Lautrec[9]

Status

Inhabited

Geographic entity

Town

Geographic features

Edge of desert. South of France-like rural architecture. Mines

Ties

Unknown

Place name allusion

Edgar Degas

First mention

First appearance
Etymology
Edit
ドガ transliterates from "Degas," from Old French gast (untilled). "Degas" alludes to the French Impressionist painter, Edgar Degas (1834–1917). Pronounced du-ga in French.
Description
Edit
Rural town in southeast Lautrec. See world map. Buildings are a pastiche of Sicilian and south of France rural architecture. Beyond a gateway, mines border the village.
Town where
Raki
first meets
Clare
[10]
Village unnamed in anime. On arrival, Clare promises the village chief nothing, only that either the Yoma's body or hers will be found. Later Raki accosts and follows Clare around town.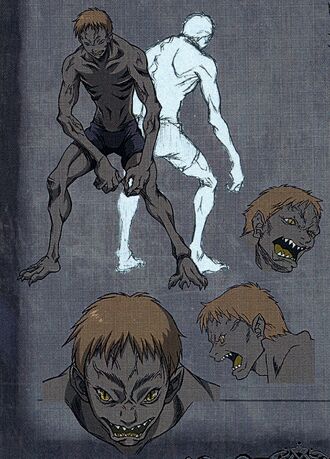 Profiles of Zaki
Clare smelled the scent of Yom on Raki and let him follow her in hopes that he would lead her to the Yoma. When Raki returns home and finds his dead uncle, Raki's older brother,
Zaki
, reveals himself to be the Yoma. Clare crashes through the kitchen ceiling and rescues Raki from Zaki. Afterward, the villagers exile Raki to the desert, for fear he may be also be infected with Yoma. but Clare rescues him.
Clare enters Doga village
After the 7-year timeskip, Raki returns to Doga, with Priscilla in tow.[11] Raki kills a Yoma,[12] but runs afoul of Renée, who demands to know how Raki discovered the Yoma's identity. [13] Priscilla then frightens away Renée.
Regarding Raki's hometown, see "Where Does Raki Come From?" section in Raki.
Additional details
Edit
In the manga, the female assistant of the village chief addresses him as "Sir" and "chief," indicating a non-familial relationship[14]
The anime replaces the young petite woman with a much stouter wife, who is closer in age to the chief[15]
The chief is modeled after Dr. Stein of Norihiro Yagi's first one-shot manga, Undeadman, as well as the high school principal of Angel Densetsu
References
Edit
Tankōbon Claymore volumes cited are VIZ Media (en-us) editions, unless otherwise noted. Manga scenes (chapters) not yet translated cite Shueisha tankōbon (ja) editions. Manga scenes not yet published in tankōbon form cite Jump SQ (ja) editions. Fragments of Silver Omnibus (総集編 銀の断章 Gin no Danshou) 1–3, Shueisha, are only available in Japanese. Anime scenes (episodes) cited are FUNimation (en-us) editions, unless otherwise noted.
Community content is available under
CC-BY-SA
unless otherwise noted.