Destructive Force

Sophia attacking Yoma

VIZ Media name

N/A

Variant

Forza Bruta[1] (Brute Force it)

Original name

障害物ごと切り裂く超破壊力[2] Shōgai-butsu-goto kirisaku chō hakai-ryoku (Destructive Force)

Class

Description

Attacking target using Slashing Blow. Destruction of obstacle together with target

Status

Unknown

User

Sophia

Associated technique

Unknown

Quote

Brute strength as usual. Just like a gorilla.[5]

First appearance
Etymology
[
]
Unofficial translation. Unnamed by characters. Manga and anime describe only. "Destructive Force" abridgement of 障害物ごと切り裂く超破壊力[6] (Rip destructive force over every obstacle). Actually a descriptive sentence rather than a true proper name.
Sophia's datasheet names her technique in Yoma War Record I.[7]
Description
[
]
Sophia's technique is enabled by Slashing Blow.[8] Obstacles and confined spaces can hinder sword movement.[9] Destructive Force allows Sophia to cut through all physical obstacles.[10]
Attack speed low-30% range.[11] Second most powerful technique.[12] See sword chart.
History
[
]
Yoma nest

[

]
Two warriors—Sophia (No. 3) and Noel (No. 4)—meet in a Yoma nest, devoid of all humans.[13] When a group of Yoma attack, the two warriors cut them down. Sophia cuts through a stone pillar and the Yoma hidden behind with one blow.
As they kill Yoma, they argue who should be No. 3. Noel compares Sophia's strength-based technique to a gorilla's, while Sophia compare's Noel's agile-based technique to a monkey's. Noel challenges Sophia to a fight.[14]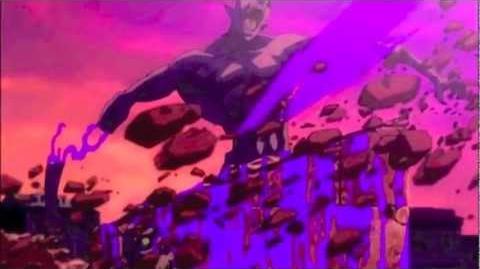 Destructive Force in action

On the arrival of Ilena, Sophia finds herself assigned to a Purge team targeting Teresa.[15]
Teresa

[

]
Despite Sophia's higher Stength (A+),[16] she is defeated by Teresa (A in Strength).[17] Unclear if Detailed Yoma Energy Sensing or Versatility is responsible.[18]
Sophia is killed by the awakened Priscilla[19] (SSS in Strength)[20].
References
[
]
Tankōbon Claymore volumes cited are VIZ Media (en-us) editions, unless otherwise noted. Manga scenes (chapters) not yet translated cite Shueisha tankōbon (ja) editions. Manga scenes not yet published in tankōbon form cite Jump SQ (ja) editions. Fragments of Silver Omnibus (総集編 銀の断章 Gin no Danshou) 1–3, Shueisha, are only available in Japanese. Anime scenes (episodes) cited are FUNimation (en-us) editions, unless otherwise noted.