Shire mission

Elena on Mount Shire

VIZ Media name

N/A

Leader

Clare (No. 47)

Team member

N/A

Man in Black

Rubel

Target

Elena

Current status

Target killed

Region

Lautrec

Locale

Mount Shire

Quote

But the more we use the Yoma's strength and abilities, the closer we are to becoming monsters.[1]

First appearance
Etymology
Edit
Unofficial name. Unnamed by characters.
In a nighttime forest, Clare meets Rubel, who brings a new shirt and leggings to replace the ones damaged by the Awakened Claymore.[2]
He warns Clare not to get too attached to Raki. Before leaving, he gives her a new assignment—a black card.[3]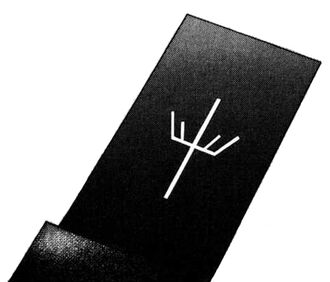 Elena's black card

She recognizes the symbol's owner.[4]
Mount ShireEdit
Rendezvous with deathEdit
The next day they reach Mount Shire. When Raki asks why they are here, Clare explains the black card system. When a warrior can no longer control awakening, and is in danger of becoming a Yoma, she sends her black card to someone she trusts to euthanize her, so she can die human.[5]
They finally meet
Elena
, Clare's best friend during their
school
days.
[6]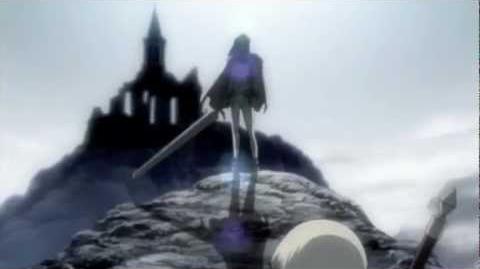 Clare meeting Elena on Mount Shire
Despite Raki's protests, Clare attacks a passive Elena, delivering a fatal slash. A dying Elena thanks Clare for letting her die a human. Later, Clare buries Elena, using Elena's
Claymore sword
as her grave-mark.
[7]
The anime has additional sequences not in the manga. Clare and Raki reach the mountainside village of Shire. At the local inn, Clare attempts to keep Raki there, until she returns from Mount Shire.[8]
After she leaves Raki in the lobby, a cowled Rubel speaks to Raki from atop the staircase. From the shadows, Rubel warns Raki about continuing to accompany Clare.




Rubel in cowl

But this only impels Raki to leave the inn and catch up with Clare on the mountain.[9]
References
Edit
Tankōbon Claymore volumes cited are VIZ Media (en-us) editions, unless otherwise noted. Manga scenes (chapters) not yet translated cite Shueisha tankōbon (ja) editions. Manga scenes not yet published in tankōbon form cite Jump SQ (ja) editions. Fragments of Silver Omnibus (総集編 銀の断章 Gin no Danshou) 1–3, Shueisha, are only available in Japanese. Anime scenes (episodes) cited are FUNimation (en-us) editions, unless otherwise noted.
Trending pages
All items (4)
Community content is available under
CC-BY-SA
unless otherwise noted.