Paburo hunt

Miria's warning

VIZ Media name

N/A

Leader

Miria (No. 6)

Team member

Deneve (No. 15), Helen (No. 22), Clare (No. 47)

Man in Black

Ermita, Rubel

Target

Paburo Awakened

Current status

Target killed

Region

Toulouse

Locale

Paburo Mountains

Quote

Despair? After only this? I've known a greater opponent and known true despair.[1]

First appearance
An awakened hunt that takes place in the Paburo Mountains. Referred to by Miria as a 異常貪欲者狩り[2] Ijō don'yoku-sha kari (Voracious Eater hunt). VIZ Media uses "hunting party."[3]
Awakened hunt led by Miria. Other hunt members are Deneve, Helen and Clare.
Miria's bad impression of Clare continues from their encounter in Toriro. In an unnamed city near the Paburo Mountains, Clare arrives a week late with Raki. When Helen starts insinuating about Clare's relation to Raki, a melee begins. Miria breaks it up. But during the introductions, Raki learns that Clare is the lowest ranking warrior.



Melee before hunt

After leaving Raki at the inn, Clare leaves with hunt for Paburo Mountains.[4]
That night, Miria tests Clare with sparring match. Clare loses sword and faints. As she lies in rain, she dreams of Teresa.[5]
Next morning, hunt continues into mountains.
The hunt is met by man who claims to be from town of "Lido." And that he made original request to Organization. But Miria attacks.[6]
He dodges blade and awakens.[7]
Paburo severs Deneve's arm. Helen attacks. But no matter how many legs she cuts off, he keeps regenerating.[8]
But Deneve returns to fight, her arm also regenerating.[9]
Helen is surprised that Paburo is male. She expected a former female warrior.
When Helen asks why, Miria reveals that the first Claymores warriors were male, but that the Organization stopped making them, as they awoke too quickly.[10]
During the next attack, Deneve, Helen and Clare go down, Miria the last one standing.[11]
With the others badly injured, Miria alone faces Paburo.[12]
Miria recovers her wounded companions. Paburo cannot score a hit. She stops and goes so fast, he only strikes mirages. He realizes that she must be "Phantom" Miria.[13]
But he suspects that her technique has its limits. After 30 times, Miria's Yoma Energy fatigues. He catches her.[14]
But despite Paburo's promise of "true despair," Clare gets up to rescue Miria. Clare alludes, unknown to others, to her experience with Priscilla.[15]
Paburo strikes with extensible claws. But claws repeatedly miss as Clare approaches.[16]
As with her predecessor Teresa, Clare uses Preemptive Sensing to read Yoma power flow of opponents, anticipating moves before they happen. She avoids Paburo's attacks.[17]
As Miria watches Clare, she wonders if Clare developed her technique solely to fight Awakened Beings.[18]
Clare cuts off five of Paburo's six arms. But during the attack, she fails to switch back to her Yoma energy reading mode.
Paburo counter-attacks, hurling her back.[19]
Miria and Clare are both injured, but Paburo is nearly helpless, left with only his legs. They finish him off.[20]
On initial, overwhelming attack by Paburo awakened (former male Claymore), Miria suspects Organization of sending hunt into deathtrap.[21]
After Paburo is killed, warriors compare notes and discover everyone is half-awakened, plus viewed as a troublemaker by the Organization. Miria advises everyone to feign ignorance about being sent into a deathtrap. She further warns about warriors No. 1 through 5.[22]
The four friends touch swords and vow to survive.[23]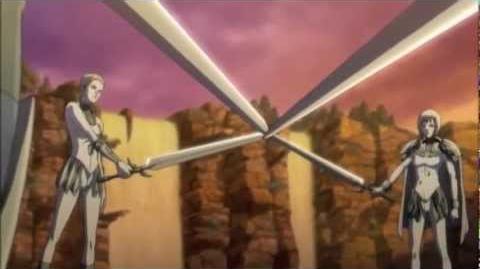 Touching swords

They meet again during Battle of the North.
Tankōbon Claymore volumes cited are VIZ Media (en-us) editions, unless otherwise noted. Manga scenes (chapters) not yet translated cite Shueisha tankōbon (ja) editions. Manga scenes not yet published in tankōbon form cite Jump SQ (ja) editions. Fragments of Silver Omnibus (総集編 銀の断章 Gin no Danshou) 1–3, Shueisha, are only available in Japanese. Anime scenes (episodes) cited are FUNimation (en-us) editions, unless otherwise noted.
Trending pages
All items (7)
Community content is available under
CC-BY-SA
unless otherwise noted.