Eyes

Galatea sensing with eyes open

VIZ Media name

"Eyes"[1] (en-us)

Variant

«Auge»[2] ("Eye" de), Surveiller[3] (monitor fr), Occhi[4] (Eyes it)

Original name

「目」[5] me

Class

Description

Remote sensing of thought, emotion and Yoma aura of target

Current status

Extant

User

Galatea, Renée, Tabitha

Associated technique

Yoma Energy Alignment and Control[8] (Galatea)

Quote

You mean...more obedient "Eyes."[9]

First appearance

First mention
Etymology
[
]
「目」is first mentioned by Limt during an Executive meeting interrupted by Galatea.[10]
"Eyes" not used in all translations. France edition describes role as "surveiller"[11] (monitor). Spain edition avoids "Eyes" altogether and instead, describes Rafaela and an unnamed companion (possibly Renée) as a "partida de reconocimiento"[12] (reconnaissance party).
Datasheet
[
]
"Eyes" are defensive type warriors with a high sensing baseline.
They remote sense for the Organization. Missions include surveillance and search and rescue.
History
[
]
Galatea

[

]
Galatea first appears sensing Paburo hunt for Ermita.[13] Her specific ability is Wide Area Sensing. No specific technique is mentioned ("Yoma War Record III").
Also see Galatea under the generic "Yoma Energy Reading" category on Yoma power chart.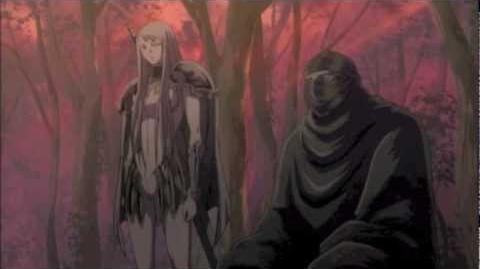 Galatea observing the Paburo hunt


Renée

[

]
Renée (No. 6) first appears in Doga village, after sensing either the Yoma or Priscilla.[14] She is later captured by Riful, who uses Renée to awaken Luciela x Rafaela.[15]
No specific ability or technique is mentioned in manga or "Yoma War Record."
Tabitha

[

]
Tabitha, (No. 31 pre-Battle of the North), never an official Eye of Organization, fulfills a similar duty for the Ghosts. She detects both Audrey's hunt and Riful as the Ghosts journey south.[16]
Tabitha guides the Ghosts when engaging Agatha in Rabona.[17] Since the demise of the Organization, Tabitha continues to act as Eyes for her comrades.
No specific type, ability or technique is mentioned in the manga, anime or the Yoma War Record. Possibly due to lower sensitivity, she shuts her eyes during sensing.[18]
References
[
]
Tankōbon Claymore volumes cited are VIZ Media (en-us) editions, unless otherwise noted. Manga scenes (chapters) not yet translated cite Shueisha tankōbon (ja) editions. Manga scenes not yet published in tankōbon form cite Jump SQ (ja) editions. Fragments of Silver Omnibus (総集編 銀の断章 Gin no Danshou) 1–3, Shueisha, are only available in Japanese. Anime scenes (episodes) cited are FUNimation (en-us) editions, unless otherwise noted.
Trending pages
All items (3)