Doga mission

Clare bursts through ceiling

VIZ Media name

N/A

Leader

Clare

Team member

N/A

Man in Black

Rubel (unnamed)

Target

Yoma

Status

Yoma killed

Region

Locale

Village of Doga [2]

Quote

Your scent on the boy lead me to your death.[3]

First appearance
Etymology
[
]
Unofficial name. Unnamed by characters.
History
[
]
Village of Doga

[

]
In the medieval village of Doga[4] six Yoma deaths have taken place. The latest victim is found in the street.[5]
At a meeting, the village chief announces to his audience that he hired a Claymore. Only a Claymore can detect the Yoma. The villagers are horrified.[6]
Claymore arrives

[

]
Clare arrives to a crowd of onlookers. She wears a Roman Army-like uniform, styled in Art Deco manner. She carries a huge sword on her back.[7]
At the chief's house, she says either her body, or the Yoma's, will eventually turn up. But if she kills the Yoma, a Man in Black will come to collect the fee. Her search begins.[8]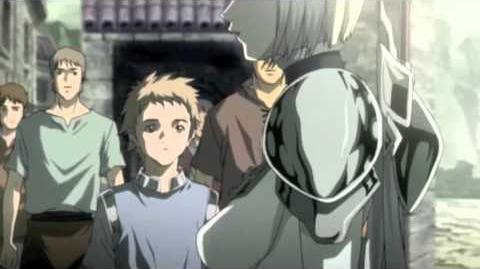 Raki races up behind her. She whirls about and nearly decapitates him. But he persists in following her. When he calls the organization she works for as "Claymore," she says the Organization has no name.[9]
When Raki calls her a "Claymore," she says that name was thrust on warriors by humans.[10] At the village's edge, the two sit down.[11]
He asks the warrior her name. But she refuses to give it.[12]
Yoma revealed

[

]
At home, Raki finds his uncle bloodied body. Zaki shows up. But "Zaki" awakens into the Yoma. The Yoma reveals he killed Raki's parents and Zaki. By eating Zaki's brain, the Yoma was able to take on Zaki's identity. The Yoma says he must have one last meal before leaving town. He attacks Raki.[13]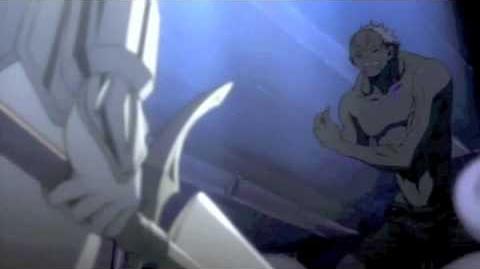 Clare attacks

The ceiling explodes—the Claymore warrior plunges and lands between the two. She reveals that Raki carries the Yoma's scent, accounting for her initial attack on Raki. After that, she only had to let Raki lead her to her target.[14]

The warrior cuts both arms off the Yoma. And strikes the top of his head, bisecting his body in two.[15]

She leaves the house, Raki slumped on the floor in shock.[16]
References
[
]
Tankōbon Claymore volumes cited are VIZ Media (en-us) editions, unless otherwise noted. Manga scenes (chapters) not yet translated cite Shueisha tankōbon (ja) editions. Manga scenes not yet published in tankōbon form cite Jump SQ (ja) editions. Fragments of Silver Omnibus (総集編 銀の断章 Gin no Danshou) 1–3, Shueisha, are only available in Japanese. Anime scenes (episodes) cited are FUNimation (en-us) editions, unless otherwise noted.
Trending pages
All items (4)