Church of Rabona

Goddess of Rabona

VIZ Media name

N/A

Variant

Unknown

Original name

N/A

Leader

Unknown

Current status

Extant

Ties

Father Vincent, Galk, Sid, Father Mohr, Galatea, Bishop Kamuri, Father Rodo

Doctrine

Unknown

Headquarters

Holy City of Rabona

Quote

...the place they call a Holy City?[1]

First appearance
Church of Rabona:
Etymology
[
]
Church unnamed by characters. See Rabona.
Description
[
]
Actual religious organization unnamed. Raki refers to ラボイ大聖堂 Raboi dai seidō (Rabona Cathedral) in the center of Rabona.[2] Resembles the Roman Catholic Church.
Hierarchy

[

]
Bishop

[

]
Bishop Kamuri is highest known ranking cleric. Possible head of church, though this is never stated. Actual hierarchy unknown.[3]



Studio profiles of Bishop Kamuri

Priests

[

]
Father Rodo assists Kamuri.[4] Father Vincent appears to be in charge of the cathedral and commands the guards.[5] He mentions Father Van (ヴァン) as the first victim.[6]
In the anime, Fathers Pario (パリオ) and Serene (セレホ) attend the emergency meeting with Father Vincent. In the manga, they appear at night meeting of the cathedral staff.[7]
Father Mohr is in charge of a smaller, neighborhood church.[8]
Monks

[

]
Before meeting, Vincent mentions Pizon (ピサン), Rudo (ルード), Kaiseru (カイセル) and Tenesu (テネス) as monks present in the cathedral during the killings.[9]
Nuns

[

]
Galatea—as Sister Latea—works with children at Mohr's church.[10]
Guards

[

]
Rabona guards resembles the Swiss Guard of the middle ages. Unknown as to the actual head of the guards. "Captain"[11] Ganesu (士長ガネス) in the VIZ Media translation is really a corporal.[12]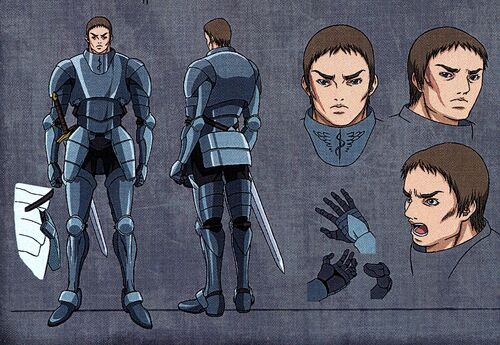 Studio profiles of Galk

Two guards, Galk and Sid, initially interfere with Clare's mission.[13] They eventually becomes friends.
Cathedral

[

]
Resembles 13th century Chartres Cathedral in Chartres, France. Cathedral has a "baptismal hall" (洗礼の間),[14] where Clare first meets Vincent. The baptismal hall also displays coffins of mummified saints, among which hides the Voracious Eater.[15]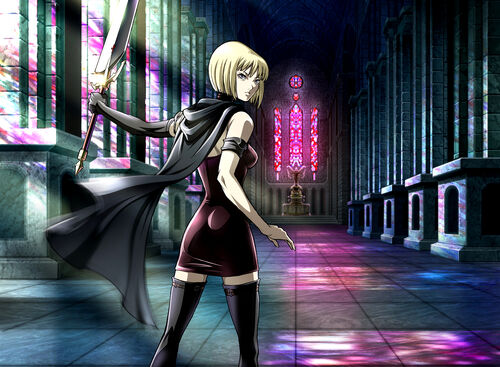 Cathedral nave


Symbol

[

]
The Goddess of Rabona resembles a winged version of Marianne, as depicted in Liberty Leading the People, by French Romantic painter, Eugène Delacroix.
"Marianne" holds a sword and streamer bearing crosses.[16] Streamer and staff resembles Rod of Asclepius.
History
[
]
Covert mission

[

]
Clare is sent to Holy City of Rabona, on request from Vincent.[17] She investigates murders in Rabona Cathedral. She believes a Voracious Eater is responsible. But two guards interfere—Galk and Sid.[18]
During a fight in the cathedral, the Yoma nearly kills Clare.[19] When she recovers, she examines church members, while the Yoma, pretending to be a saint's corpse, threatens Raki downstairs. Clare, with Galk's and Sid's help, kills the Yoma.[20]
7-year timeskip

[

]
In Rabona, Ghosts defeat Agatha, in which Miria and Clare rescue Galatea.[21] Galatea offers to submit to execution. But Clarice and Miata desert Organization instead. Afterward, Miria relates her research on the Organization—Miria's theory.[22]
Miria puts Galatea in charge of Clarice and Miata. Later, Miria negoiates with Vincent for Galatea and the Claymore warriors to stay in Rabona.[23]
During a tavern party, Sid tells Clare that Raki was in town looking for her. Galk reassures Clare that she and Raki must meet again.[24]
Return to Rabona

[

]
After Miria's failed attempt to destroy the Organization, awakened beings and Yoma invade Rabona. Galatea, Tabitha, Clarice and Miata defend the city with the city guards. Arrival of the Ghosts finally stops the invasion.[25]
Owing to Miria's likely failed attack, Galatea suspects the Organization is behind invasion.[26]
Inspired by Helen, the Ghosts bring back the Yoma cocoon to Rabona. While probing the cocoon, Galatea realizes that releasing Clare means releasing Priscilla.[27]
Post-Rebellion

[

]
After the destruction of the Organization, the Ghosts return to Rabona ahead of the awakened Cassandra. They run into awakened beings on the hills overlooking the city. Octavia leads a party of former female warriors. Also present are awakened from the Initial Male Era, Chronos and Lars. They all await Priscilla's emergence from the cocoon.
The Ghosts find the city evacuated, only the guards, Galatea, Clarice and Miata present. After Clare and Priscilla emerges from the cocoon, two fights take place. One between Priscilla and Riful's daughter. The other between the Ghosts and Cassandra. The Ghosts are defeated. When Octavia's party help, most are destroyed by Cassandra. Europa abandons the fight and rushes to the city for human entrails.
Additional details
[
]
References
[
]
Tankōbon Claymore volumes cited are VIZ Media (en-us) editions, unless otherwise noted. Manga scenes (chapters) not yet translated cite Shueisha tankōbon (ja) editions. Manga scenes not yet published in tankōbon form cite Jump SQ (ja) editions. Fragments of Silver Omnibus (総集編 銀の断章 Gin no Danshou) 1–3, Shueisha, are only available in Japanese. Anime scenes (episodes) cited are FUNimation (en-us) editions, unless otherwise noted.
Trending pages
All items (9)