Carrier

Flora's carrier

Variant

Mount[1]

Original name

キャリア[2] Kyaria

Description

Metal sword holster

Status

Extant

User

Claymore warriors

First appearance
Etymology
Edit
The キャリア kyaria (carrier) is unnamed by characters in the manga and anime. The sword carrier is only named in the avex Claymore DVD booklets.
Description
Edit
Between the shoulder blades, an ambidextrously slotted sword "carrier" is mounted against a metal plate—the back-half of the "clamshell" holding up a shirt around the shoulder area.[3]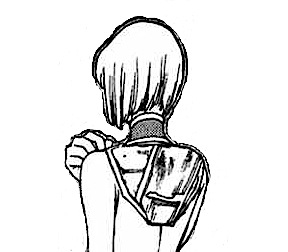 Sword hook on back plate

The back plate protects the warrior from being cut by her own sword when sheathed in the carrier. When sheathed, the sword enters a carrier slot and is secured inside by the sword hook on the back plate.
The carrier and plate also serve to protect the spine between the cervical and thoracic sections against external attack.
The carrier is held in place by a buckle (バックル[4] bakkuru

). A cape is attached to the horns of the carrier.
As with most parts of the Claymore uniform, there is much variance among individual carriers, possibly indicating each warrior's preference. Some are heavily built, as with those of Undine and Clare. Others are of medium construction, as is Veronica's. The carriers of Miria and Roxanne appear lightly built.
Initial Male EraEdit
In place of a carrier, the Initial Male Era uses a hook.
Similar to the hook on the back plate of the female generations, the Claymore sword is held by one of two hooks attached to the back brace, which is part of the buckle and spaulders array.[5]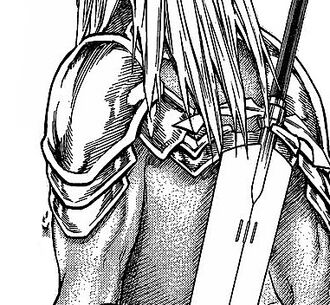 Sword hooks on back bracket

First GenerationEdit
With the female First Generation, the carrier appears. Protruding from the carrier are a pair of horns on which the cape is attached.[6]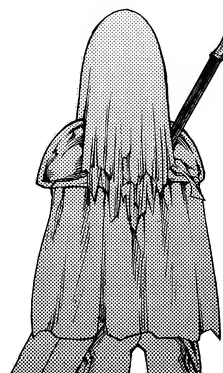 First Generation carrier and cape

References
Edit
Tankōbon Claymore volumes cited are VIZ Media (en-us) editions, unless otherwise noted. Manga scenes (chapters) not yet translated cite Shueisha tankōbon (ja) editions. Manga scenes not yet published in tankōbon form cite Jump SQ (ja) editions. Fragments of Silver Omnibus (総集編 銀の断章 Gin no Danshou) 1–3, Shueisha, are only available in Japanese. Anime scenes (episodes) cited are FUNimation (en-us) editions, unless otherwise noted.
Community content is available under
CC-BY-SA
unless otherwise noted.