Carla

Carla

VIZ Media name

Carla[1] (en-us )

Variant

Carla[2][3] (de, fr ), Karla[4] (es-es ), Carmela[5] (it ), 카를라[6] Kaleulla (ko), Клара[7] Klara (ru), 卡露拉[8] Kǎlùlā (zh-hk), 卡爾菈[9] Kǎ'ěrlā (zh-tw)

Original name

カルう[10] Kara

Rank No.

39 of the Old Generation[11]

Current status

Killed in Battle of the North

Ties

Organization

Class

Unknown

Technique

Unknown

Quote

My body...won't...obey me.[12]

Anime voice

Kim Matula (en-us),
Yui Kano (ja)

First appearance
Etymology
Edit
カルう transliterates from "Karla," from either Germanic "karl" (man), or Germanic element "hari" (army or warrior).
VIZ Media uses "Carla." The Russian edition names the character "Klara."
Appearance
Edit
Waist-length hair, with locks hanging over right shoulder and bangs on forehead.
A curved lozenge-shaped buckle holds 2-layer spaulders on the shoulders. Horizontally overlapped faulds hang in front of the thighs. Wears mid-calf chausses.
Personality
Edit
Volatile. Quarrels with Wendy during first meeting in Pieta.[13]
Datasheet
Edit
Unknown type. Having no Organization datasheet in the "Yoma War Record," her ability and baselines are unknown.
Carla, a lower-ranking double-digit (No. 39), is third warrior fatality in anime version of Battle of the North.[14]
Early life unknown.
Battle of the NorthEdit
Member of the battle group in Pieta during the Battle of the North. Assigned to Team Flora: Flora (No. 8), Lily (No. 18), Wendy (No. 30) and Clare (No. 47).[15]
Engagement IEdit
During the first engagement with the three scouts, Team Flora fights the Armadillo awakened. Flora, Lily, Wendy and Clare are pinned to roof by technique resembling Yoma Energy Alignment and Control. Armadillo then remote controls Carla to execute Team Flora.[16]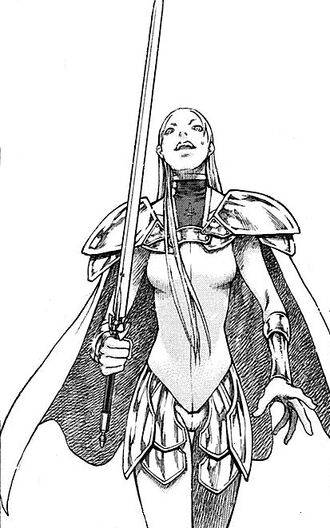 Carla out of control

Clare asks Ilena's arm for help. The arm on its own volition destroys the roof, toppling everyone to the floor below.[17] Team Undine reinforces Team Flora. Deneve and Undine sever Armadillo's head. When head tries to escape, Flora and Clare cut it to pieces.[18]
Engagement IIEdit
Manga and anime diverge here.
Carla appears in Yuma's flashback. In the banquet hall of the Eastern Inn, Miria holds a meeting with the battle group. She tells everyone to take a half dose of suppressant. If rendered unconscious during combat, a warrior will radiate no aura, making her appear dead to both the Northern Army and Organization.[19]
The Northern Army invades Pieta.[20] Carla does not appear in second engagement.
Carla presumably dead by Scene 66, though not mentioned by name, nor shown by her sword as a grave-mark.
Northern Army invades Pieta. Carla appears with Team Flora, hiding in an alley. Later, Carla attacks the Stegosaur awakened, but is killed.[21]
References
Edit
Tankōbon Claymore volumes cited are VIZ Media (en-us) editions, unless otherwise noted. Manga scenes (chapters) not yet translated cite Shueisha tankōbon (ja) editions. Manga scenes not yet published in tankōbon form cite Jump SQ (ja) editions. Fragments of Silver Omnibus (総集編 銀の断章 Gin no Danshou) 1–3, Shueisha, are only available in Japanese. Anime scenes (episodes) cited are FUNimation (en-us) editions, unless otherwise noted.
Community content is available under
CC-BY-SA
unless otherwise noted.