Bishop Kamuri

Clare examines Bishop Kamuri in anime

VIZ Media name

Bishop Kamuri[1] (en-us)

Variant

Bischof Kamuri[2] (de), Obispo Kamuri[3] (es-es), Évêque Camry[4] (fr), Vescovo Kamuri[5] (it), Camri[6] (it anime), Епископ Камри[7] Уepiskop Kamri (ru), 加莫里 Jiāmòlǐ (zh-hk), 卡姆里 Kǎmǔlǐ (zh-tw)

Original name

カムリ[8] Kamuri

Rank

Bishop[9]

Current status

Unknown

Ties

Church of Rabona

Duties

Highest ranking cleric of Church of Rabona. Possible head of church

Quote

Tell me. Do I pass?[10]

Anime voice

J Paul Slavens (en-us), Umeji Sasaki (ja)

First appearance
Etymology
Edit
カムリ transliterates from "Crown," from Middle English crowne. Possibly alluding to Papal Tiara or Crown of Immortality.
Unnamed in the FUNimation anime, where the character is called variously a bishop or archbishop.
Appearance
Edit
Elderly man with long gray beard and hair. Appears to have cloudy cornea, causing white pupils. An earlier, Kamuri-like character appears in Act 65 of Angel Densetsu.[11]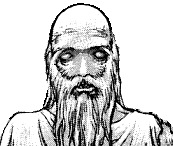 Village leader in Angel Densetsu

Personality
Edit
Gentle persona. Indulges Clare exam with calm. And in anime, with some humor.
Early life unknown.
First meetingEdit
Clare is sent on covert mission. In Holy City of Rabona, Clare and Raki visit cathedral. She contacts Vincent in baptism chamber.[12]
Later that night, she meets Vincent in cathedral tower room. He explains how priests are being murdered. But he promises to take care of Raki in case of Clare's death.[13] Afterward, she runs into Galk and Sid.[14]



Bishop Kamuri standing

Next night, Clare again meets Vincent. She suspects a "Voracious Eater" is the culprit. Vincent names Bishop Kamuri and Father Rodo as being in cathedral during the killings.[15]
After Clare is wounded by Yoma, Galk brings Clare to Vincent's bedroom, where she remains in a coma for two days.[16]
Examining the suspectsEdit
Vincent calls staff meeting. Since all were present during murders, they are now suspects. Rodo is outraged by Clare's presence. And further by Kamuri being a suspect.[17]
Clare exams each suspect, trying to find the Yoma.[18]
All suspects have Yoma scent. Finally, she exams Kamuri and Vincent. But to no avail. The situation turns ugly as Rado verbally attacks Vincent.
[19]
Clare examines Bishop Kamuri
Clare finally reaches the last possibility. If Yoma can impersonate the living, what if one impersonates the dead?[20]
Additional notes
Edit
References
Edit
Tankōbon Claymore volumes cited are VIZ Media (en-us) editions, unless otherwise noted. Manga scenes (chapters) not yet translated cite Shueisha tankōbon (ja) editions. Manga scenes not yet published in tankōbon form cite Jump SQ (ja) editions. Fragments of Silver Omnibus (総集編 銀の断章 Gin no Danshou) 1–3, Shueisha, are only available in Japanese. Anime scenes (episodes) cited are FUNimation (en-us) editions, unless otherwise noted.